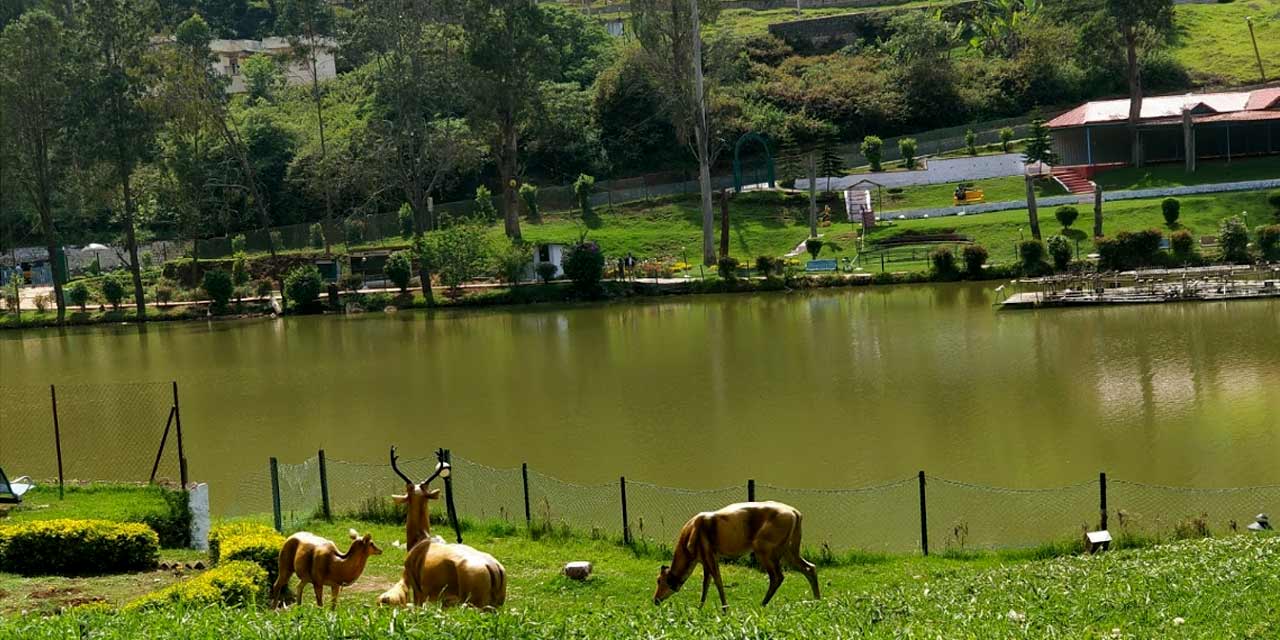 Wellington Lake Coonoor Entry Fee
10 per person
20 per person for Boating
Wellington Lake Coonoor Phone
N/A
---
Rating:

| 4.3/5 stars
Based on total 67 reviews
Wellington Lake Coonoor Address: Wellington, Coonoor, Tamil Nadu, 643231, India
---
Have you ever visited a place encompassed by stunning mountains, fresh chilling breeze, colourful boats, cute ducks and swans, vibrant flowers and a pleasant atmosphere? If not, it's the time!
Nestled in the Keelachiruvoi Village, Wellington Lake is a lesser-known sightseeing place in Ooty that invites tourists to have a great time away from the city life. It is the 2nd largest lake in the Tamil Nadu region and has picturesque views with sky-high trees.
Perfect for solo travellers, couples and a group of friends, the lake offers a splendid experience that you will cherish for a lifetime. Witness the captivating scenery whilst sitting around the place for hours. Go for boating to make the most of your time. The light and sound show is simply awesome! There is also a canteen where you can satisfy your appetite with light snacks.
Things to do in Wellington Lake, Coonoor
Wellington Lake offers several things to do apart from the serene beauty and peaceful views it beholds. You can take some time off for exploring the nearby tourist attractions such as Dolphin's Nose, Sim's Park, Tiger Hill Cemetery, Rallia Dam and Highfield Tea Estate.
Lamb's Rock is another place to visit on your Ooty tour. It is a romantic gem for couples, a fascinating viewpoint for nature lovers and a famous picnic spot for families. Here you can enjoy an adventurous trek or relax and pamper your senses amid lush greenery surrounding the breathtaking valleys.
While in Wellington Lake, you can keep yourself occupied with the following activities:
1. Walk around the area to soak up the natural beauty at its best. You can treat your eyes with the views that are hard to miss.
2. Get photographed in as many pictures as you can. The lake offers a fantastic background to capture some amazing clicks.
3. Experience the boat ride in the glittering waters of this lake. Do not forget to interact with the ducks that come together in a group to bask under the shade of the sun. You can also feed them with the food available at the nearby stores.
4. Spend some quality time with your kids at the children's park, which is located near the lake. It is a great place for little visitors to entertain themselves with a wide variety of fun-filled activities.
Image Gallery of Wellington Lake Coonoor
Entry Fee and Timings of Wellington Lake, Coonoor
The entry fee to visit Wellington Lake in Coonoor is INR 10 per person. It is open for its tourists from 9:00 AM to 8:30 PM on all days of the week. You can also enjoy boating at a charge of INR 20 per person.
How to Reach Wellington Lake, Coonoor?
Getting to Wellington Lake in Coonoor is quite easy. Since Coonoor is well-connected to the neighbouring towns via road, it can be accessed by a local taxi, bus or a private vehicle. The main 3 modes of transportation are as follows:
By Air: Coimbatore International Airport, which is 100 km away, is the nearest airport to Coonoor. It serves various direct and connecting flights for both domestic and international travellers. You can look for a cab to reach your destination from there.
By Train: The closest station to Wellington Lake is the Coonoor Railway Station, which is just 8-minutes away. To reach Coonoor station, you can experience an unforgettable journey through the Nilgiri toy train that connects Coonoor to Mettupalayam railway station. From Mettupalayam, there are several trains that operate daily to and from the major cities of India.
By Road: If you prefer travelling by road, you can opt for a private or government-owned bus that links Coonoor to New Delhi, Bangalore, Mumbai, Kanyakumari, Tirupati, Chennai and Madurai. The Tamil Nadu State Transport Cooperation department also runs luxury coaches for the convenience of tourists. It is your choice how to want to travel.
---
To make your Ooty tour a memorable one, we at Ooty tourism, a division of Holidays DNA, have designed various travel packages that help holidaymakers to make the most of their vacation. Our team has also curated a list of top car rental companies in Ooty for a hassle-free experience. You just need to fill the Contact Us form for more details.
Location Map for Wellington Lake Coonoor