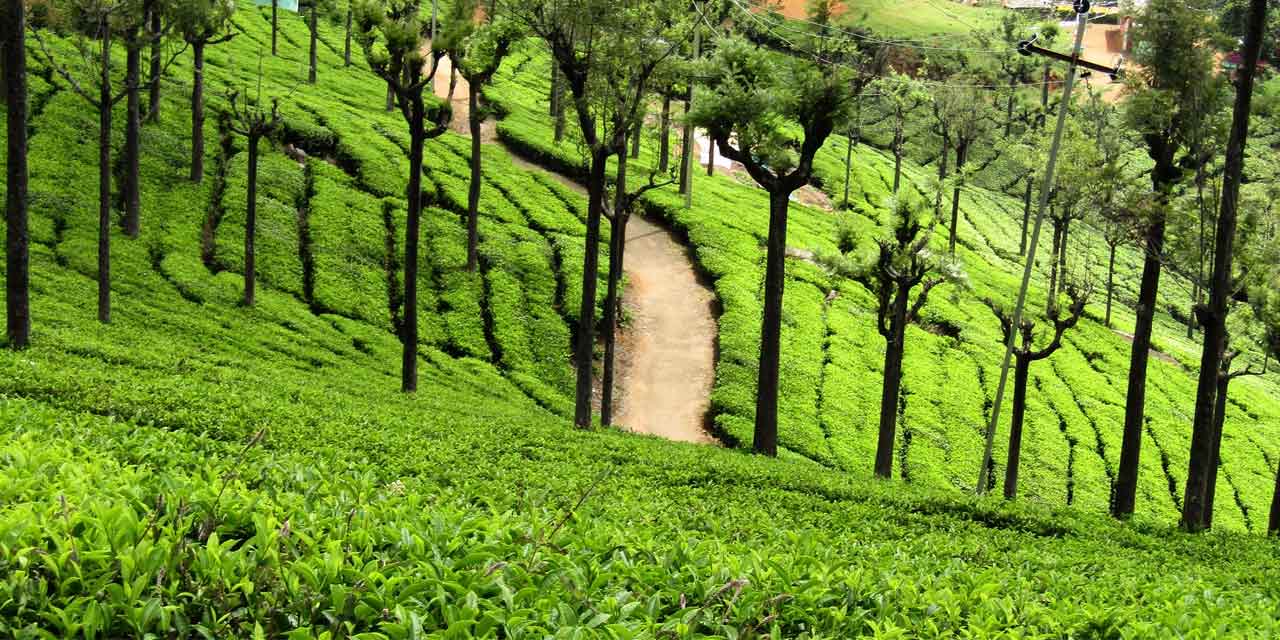 Tea Estate View Point Ooty Entry Fee
0 (No Entry Fee)
Tea Estate View Point Ooty Phone
N/A
---
Rating:

| 4.1/5 stars
Based on total 56 reviews
Tea Estate View Point Ooty Address: Ooty, Tamil Nadu, 643001, India
---
Ooty, the Queen of Hills, is one of the most famous hill stations in Tamil Nadu, India. It has got mountains, gardens as well as lakes. And Ooty also has tea estates, acres of it, spread all around the town.
Although you can stop to enjoy the hypnotising aroma and mesmerising views at numerous places, the Tea Estate View Point near the Doddabetta Peak is worth a visit. You can click photos of the tea plantations across the slopes and also, walk down the trails to feel the tea leaves for real.
Another significance of this viewpoint for tea estates in Ooty is that you can see the tea production process at the factory nearby. The Tea Factory and Tea Museum covers an acre worth of area and allows visitors to experience tea processing live. You can watch the production of tea right from when the leaves are plucked to when the final product is packaged for sale. The adjacent museum displays various stories related to tea.
Things to do at Tea Estate View Point
Here's a list of activities available for you at this viewpoint for Ooty tea plantations.
1. Trekking among the tea plants – Ooty is like a place established over tea plantations and having a tour of one of the tea estates is an experience one can never forget. You can walk around, take photographs or just drool at the views. Depending on the time of your visit, you might also catch the buds being cultivated or harvested.
2. Checking tea processing activities – At the factory by the side, you can learn how the tea that you have daily is produced. From rolling and drying to CTC stage, and in the end, getting packed in the bags for shipping, you'll get to witness it all. Chai lovers might never want to leave the place.
3. Knowing about the tea culture – Just by the factory, there's a small museum-cum-gallery. There, visitors can read about the history of teas and the origin of different tea leaves around the world. Moreover, the museum also serves you stories about the evolution of tea in India and its production in the Nilgiris.
4. Tea tasting – Apart from the majestic views of the valley seeping in through your eyes, you can get a cup of freshly prepared masala tea to sip at the factory.
5. Shopping at the factory outlet – The small outlet offers a variety of tea for you to buy and take home. Other than that, you can also check the available souvenirs, essential oils and the range of freshly prepared chocolates.
Best Time to Visit Tea Estate View Point
You can visit Ooty and enjoy the views of elegant tea estates 365 days a year. The temperature in the summer months isn't favourable for Ooty tourism though. So, the best season to savour the views of tea estates is around Winter. Between October and March, the temperature is at a soothing level, more on the chilly side, and thus, best for trekking and hiking around the tea plantations.
Also, much of tea harvesting is done during those months. So, you might catch some action during your visit.
Time to Explore Tea Estate View Point
You won't need more than an hour at this viewpoint. However, if you want to decide to explore the tea production process, take plenty of photographs and also have a knack for shopping, set aside two hours to visit the place.
Entry Fee and Timings of Tea Estate View Point
You don't need to pay any fee to gorge at the scenic views of the tea plantations around, and the spot is accessible throughout the day. Any time after sunrise and before sunset would be favourable to visit, and that would be from 6 AM to 6 PM, on a normal day.
The Tea Factory and Tea Museum, however, is open from 9 AM to 5:30 PM. The entry fee for the factory is a nominal ₹10 per person. Add another ₹10 if you want to check out the museum.
Places to Visit near Tea Estate View Point
Apart from Tea Estate View Point, Ooty has got many other places for you to see. Here is a list of places you must visit.
1. Doddabetta Peak – About 4 km from the Tea Estate View Point is the majestic Doddabetta Peak. It provides a breathtaking bird's eye view of the surrounding area. Doddabetta is also known as a place which favours camping and trekking.
2. Ooty Botanical Garden – In the city, at a distance of about 3 km from the tea estates, lies this beautiful garden. This government-maintained park is divided into different sections and has lawns along with aromatic and ornamental bushes in full bloom. It is only a 10-minute drive away.
3. Wenlock Downs – Also known as the 9th Mile Ooty, this beautiful place is 9 miles away from Ooty, on the highway towards Mysore. The place is known for its scenic lush green grasslands spread all around and a view of the distant mountain slopes. As it's a popular spot for movie shootings, Wenlock Downs is also nicknamed Shooting Medu.
4. Pykara Lake and Boat House – Pykara Lake and Boat House is another tourist destination on the way from Ooty to Mysore. You can have fun-filled speedboat rides at the lake or enjoy the views around in a motorboat. The adventure activists can also opt for hiking up to the Pykara Falls.
5. Ooty Toy Train – The Ooty Toy Train runs on the Nilgiri Mountain Railway track. This steam engine train takes you on a 46 km long beautiful train journey between Ooty and Mettupalayam, which you'll never forget. On the way, while you pass through numerous tunnels, curves and bridges, you'll experience breathtaking views of the valley below.
Tea Estate View Point, Ooty Image Galley
How to Reach Tea Estate View Point
The Tea Estate View Point lies on the way to Coimbatore from Ooty. It's about 5 km from the city centre, and you can hire taxis to take you there. Public buses too are available at regular intervals from Ooty bus stand. And here are the various ways to reach Ooty –
By Road – Ooty is connected to major cities of the state by road. Whether you're coming from a place in Tamil Nadu or travelling to Ooty from the nearby state of Kerala/Karnataka, you can find conveyance easily. Ooty, being a popular tourist destination in South India, has regular buses from Bangalore, Chennai and Coimbatore.
By Rail – You can find trains from cities like Chennai, Coimbatore and Mysore for Mettupalayam. Situated at a distance of about 40 km, it is the railway station that serves Ooty. Buses and taxis are available for Ooty when you get off there. You can also opt for the toy train to take you to Ooty from Mettupalayam.
By Air – The nearest airport is at Coimbatore, which is connected with major airport cities in India like Bangalore, Delhi and Mumbai. Those coming from abroad can get a flight for Bangalore (300 km away from Ooty) and then connect forward to Coimbatore. Coimbatore airport is 88 km away from Ooty. From there, one can opt for a private cab from top car rental companies in Ooty and visit all the popular sightseeing places of Ooty quite comfortably.
---
Ooty Tourism, a division of Holidays DNA makes your trip to the Queen of Hill stations a truly memorable one with its Ooty tour packages that are also customizable. Choose the package according to your budget and time constraints and help us plan your Ooty tour in the best possible manner. For more details on various packages, please fill the Contact Us form.
Location Map for Tea Estate View Point Ooty