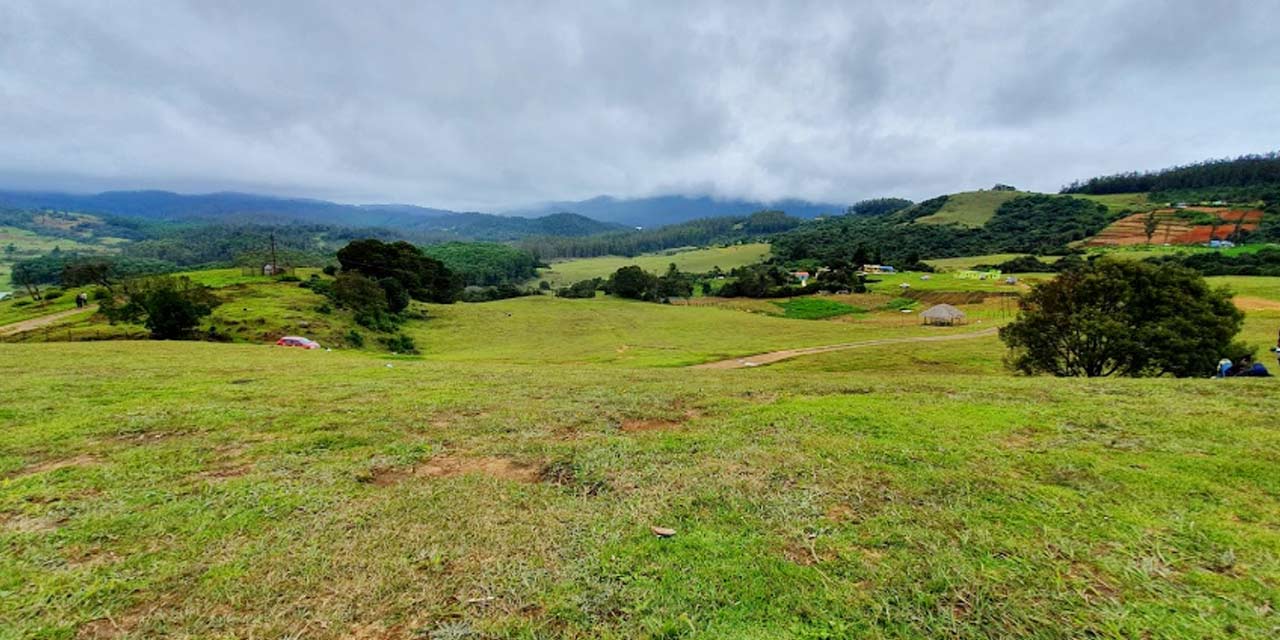 9th Mile Ooty Entry Fee
10 per person
30 for Still Camera
9th Mile Ooty Phone
---
Rating:

| 4.1/5 stars
Based on total 95 reviews
9th Mile Ooty Address: Coimbatore-Ooty-Gundlupet Hwy, Ooty, Tamil Nadu, 643005, India
---
Also called Wenlock Downs, 9th Mile Ooty is a scenic tourist spot, 15 km (i.e. 9 miles) away from Ooty. The location boasts of vast meadows sprawling out to, what seems like infinity.
Once upon a time, it acted as a hunting ground for the British and the Europeans. But now, 9th Mile is one of the most spectacular tourist spots in Ooty. The place also appeared in many Indian movies like Deewana, Kuch Kuch Hota Hai, Raja Hindustani and others. And the locals, thus, nicknamed 9th Mile as Shooting Medu.
This shooting spot in Ooty is a part of the Wenlock Downs, and together with 6th Mile, 9th Mile Ooty adds up to the beauty of the town's landscape.
9th Mile Shooting Point Ooty offers you breathtaking and unobstructed views of the Nilgiris afar and acts as the perfect spot to spend a few hours away from the noisy city life. Climb up the view point to adore the 360-degree views of the neighbourhood.
The area is dotted with Shola forests and as gorgeous as these grasslands are, so relaxing the drive towards it is.
Things to do at 9th Mile Ooty
9th Mile is all about lush green fields and mesmerising views. Here's what all you can do at this scenic tourist spot –
1. Hiking up to the view point – The rolling grasslands you see from the roadside is only a part of what 9th Mile in Ooty has. To embrace the views it offers, you have to trek up the trail to the top. The slope is steep and will take you around 15 minutes of hard work. From the peak, you can savour dense and green Shola forest around, pristine Pykara Lake at a distance and Nilgiris in the background.
2. Soaking in the views – If you don't feel yourself prime enough to go for the hike, you can spend time at the levelled landscape itself. Settle down, look around and enjoy the breeze while taking Instagram friendly photos of yourself.
3. Horse riding – Trained gentle horses are available near the entrance of 9th Mile Ooty location. Pay the charges, and a horse is available for you to carry you up to the top. Take it for a ride, enjoy the views and come back. It takes about 15-20 minutes, and the horse-trainer will be with you all the time.
Best time to visit 9th Mile Ooty
To enjoy the panoramic views and have an unforgettable experience of Ooty 9th Mile, the weather needs to be cool and dry. The best time, therefore, is between December to April when the heat doesn't hurt, and rainfall isn't a regular affair.
Time to explore 9th Mile Ooty
The picturesque landscape that you witness at the 9th Mile isn't only about capturing it all and then, moving on to the next tourist spot. Instead, set aside 2 hours to roam around, relax and rejuvenate yourself.
9th Mile Ooty Timings and Entry Fee
The usual accessible hours for Shooting Medu are between 8 AM and 6 PM. Hop into your car early and take the serene route in the morning to spend some time out there in solace. However, to get the distant views, the timeframe during the early afternoon is apt. Skies are clear then.
The entry fee for Ooty 9th Mile is ₹10 per person and to use your camera; you have to pay ₹30.
Image Gallery of 9th Mile Ooty
How to reach 9th Mile Ooty?
9th Mile is situated on the way to Pykara Lake, about 15 km from Ooty, and the following are the various options you have to reach this hilly town of South India.
By Road – Ooty is well accessible by road and is a few hours' drive away from the nearby cities of Bangalore, Coimbatore or Mysore. Also, being one of the popular hill stations, Ooty has regular bus and taxi services from those cities.
By Rail – From Chennai and Coimbatore railway stations, you can book trains that take you to Mettupalayam, which is the nearest major railway station near Ooty. Then, to go to Ooty (40 km away), you can take the steam-powered toy train. Buses and taxis are also available at your service to take you to Ooty.
By Air – The nearest airport to Ooty is at Coimbatore. It is 88 km away and has regular flights from Bangalore, Delhi, Mumbai and other cities. If your planning to visit Ooty from outside India, book a flight to Bangalore. You can then board a flight to Coimbatore or take a long drive of 300 km to reach Ooty directly. To reach Ooty by a private cab, you can book it from top car rental companies in Ooty and visit all the sightseeing places of Ooty in a hassle free manner.
---
Being a popular hill station, Ooty is a year round destination with tourists flocking it in huge numbers to get respite from the heat of metro cities. For a fun-filled holiday experience at Ooty, book an Ooty tour package from Ooty Tourism, a division of Holidays DNA. Ooty Tourism has designed pocket friendly packages that cover all the major attractions of Ooty in the comfort of a private cab. Please fill the Contact Us form for further details and we will get back to you.
Location Map for 9th Mile Ooty