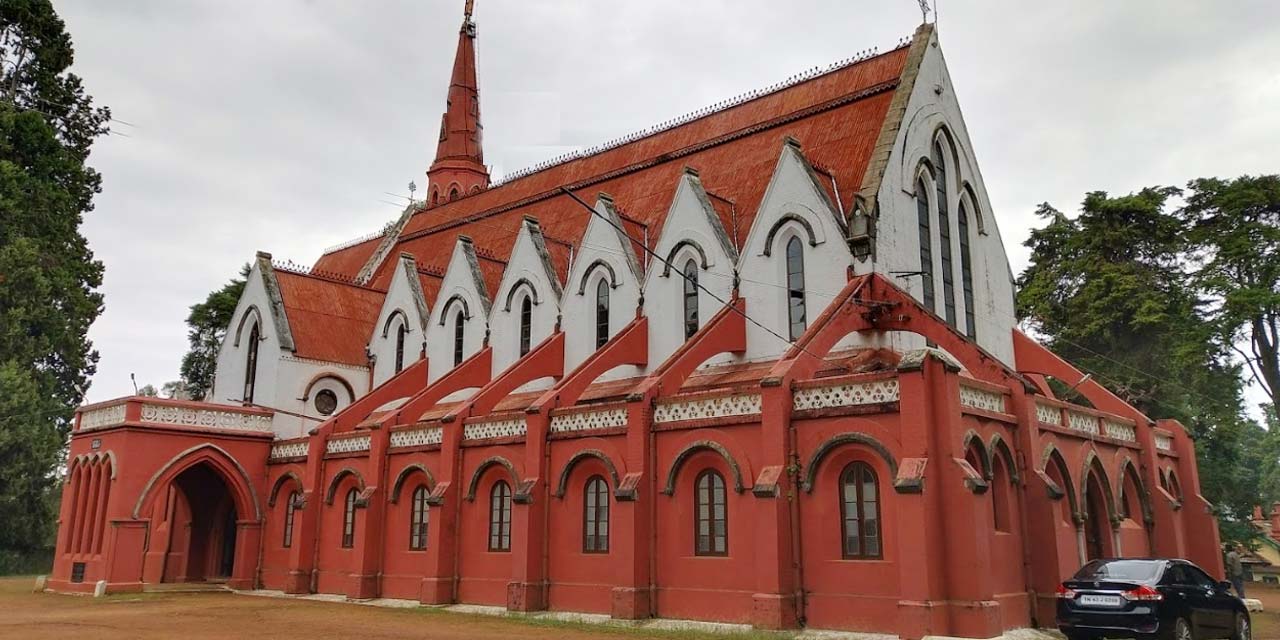 St. George's Church Coonoor Entry Fee
0 (No Entry Fee)
St. George's Church Coonoor Phone
---
Rating:

| 4.1/5 stars
Based on total 64 reviews
St. George's Church Coonoor Address: Wellington, Coonoor, Tamil Nadu, 643231, India
---
All those who are looking to spend some ME time amid peace and spirituality, St. George's Church can be the right destination to visit on Ooty tour. One of the most popular places to visit in Coonoor, St. George's Church redefines its charm in its own way, thus attracting tourists from different parts of the world. It is a must-visit spot for experience seekers, photographers and religious lovers.
Widely known for its architecture, the church offers a real treat to people interested in learning more about history. Here you can feel relaxed in a serene environment or capture some fun clicks – to create unforgettable memories with your friends/family.
Do not miss visiting the church on special occasions! It looks vibrant and energetic during festivals and other celebrations such as Christmas, New Year, etc.
History and Architecture of St. George's Church, Coonoor
Dating its history back to the 18th century, St. George's Church was beautifully designed by Colonel J.T. Boileau during the British rule in India. Often referred to as Cantonment Church, the church features an ancient Raj style of architecture with an amazing interior that has 6 Ionic columns and a vaulted roof. These columns divide the main hall into 2 portions, known as the central nave and side aisles.
To enter the church, one has to go through a small vestibule section. Surrounded by a vast collection of paintings, the altar is made up of a white marble which makes it look more impressive with gorgeous inlay work. Other than that, there is also a board where you can see the names of members of the clergy from 1859, who have given their contribution towards the church.
Places to Visit around St. George's Church, Coonoor
Your Ooty tour won't be complete without visiting Sim's Park in Coonoor. It is a place where you can interact with a wide variety of colourful plants and flowers along with adoring the breathtaking views. The park also organizes a fruits and vegetable show for the enjoyment of people every year in May.
High Field Tea Estate is another equally fascinating place where you can treat your buds with the original flavours of tea. Other places to visit in Coonoor are Dolphin's Nose Viewpoint, Tiger Hill Cemetery, Kattery Park, Catherine Falls, Government Rose Garden and many more.
St. George's Church Coonoor Image Gallery
Entry Fee and Timings of St. George's Church, Coonoor
There is no entry fee to visit St. George's Church in Coonoor. It opens its doors for visitors from 9:00 AM to 6:00 PM on all days of the week. The recommended exploration time is nearly 30 minutes.
Travel Tips for St. George's Church, Coonoor
Try to maintain silence when you are inside the church.
Make sure to carry your winter outfits along. Sometimes, the weather gets too chilly by the time you wish to return home.
Best Time to Visit St. George's Church, Coonoor
Although one can seek blessings at St. George's Church throughout the year, visiting it from October to March is considered as the best time. During this time, tourists can enjoy a pleasant climate with more lush greenery and breathtaking landscapes.
Most of the people prefer visiting St. George's Church in the early morning. However, if you are not a morning person, you can also plan your trip to the church in late evenings. Avoid it in the afternoon, as the place witnesses a huge crowd during peak hours.
How to Reach St. George's Church, Coonoor?
To reach Coonoor, tourists can board a direct flight to Coimbatore International Airport, which is around 70 km drive away from the town. Coimbatore Airport is well-served by both domestic and international travellers and has frequent flights from the metro cities of India.
Choose to travel via road if you want to witness the unmissable beauty on your way to Ooty. Ooty maintains good road connectivity to Coonoor and other neighbouring areas through local transport.
You can also enjoy a train journey to Mettupalayam Railway Station, which is the nearest station in Ooty. From there, catch a Nilgiri Toy Train or book a private vehicle from the leading car rental companies in Ooty for commuting within the hill station. There are several buses/cabs and shared taxis available for your convenience.
---
Avail a pocket-friendly travel deal with us to make the most of your trip. We at Ooty tourism, a division of Holidays DNA, present our client with various all-inclusive Ooty tour packages at competitive prices. You can also ask our experts to customize a package suiting to your holiday needs. To know more, please fill the Contact Us form.
Location Map for St. George's Church Coonoor