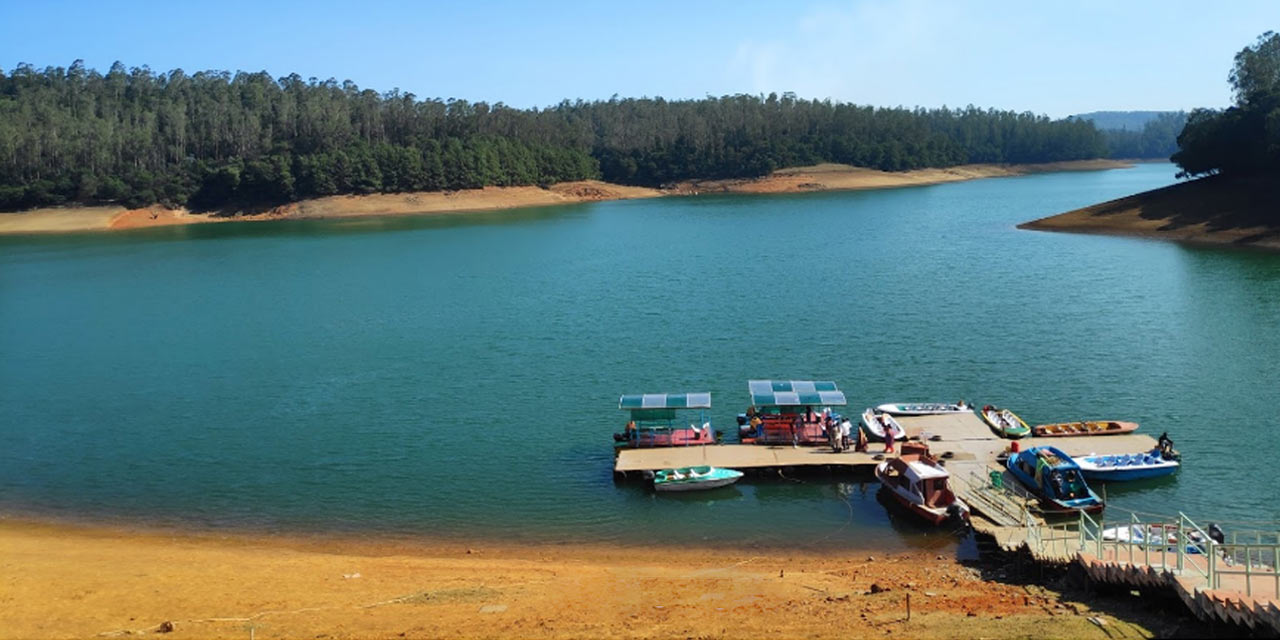 Pykara Lake / Boat Club Ooty Entry Fee
10 per person
20 per person for Battery car from lake entrance to Pykara Falls
Pykara Lake Boating Charges
770 + Tax for 8 seater Motor Boat (20 min)
890 + Tax for 10 seater Motor Boat (20 min)
1240 + Tax for 15 seater Motor Boat (20 min)
800 + Tax for 2 seater Speed Boat (10 min)
*Below 5 years only one Child can be allowed extra
Pykara Lake / Boat Club Ooty Phone
---
Rating:

| 4.2/5 stars
Based on total 98 reviews
Pykara Lake / Boat Club Ooty Address: Pykara, Ooty, Tamil Nadu, 643237, India
Ooty Tour Packages

Pykara Lake / Boat Club Ooty Timings
| Day | Timing |
| --- | --- |
| Monday | 8:30 am – 5:30 pm |
| Tuesday | 8:30 am – 5:30 pm |
| Wedesday | 8:30 am – 5:30 pm |
| Thursday | 8:30 am – 5:30 pm |
| Friday | 8:30 am – 5:30 pm |
| Saturday | 8:30 am – 5:30 pm |
| Sunday | 8:30 am – 5:30 pm |
Note: Pykara Lake boating timings are from 10:00 AM and 5:30 PM on all days of the week
Links:
Website
|
Map
---
Rising from the Mukurthi peak, north of Ooty, the Pykara River gives birth to a series of fine waterfalls and the large Pykara Lake. While the drive towards the lake is an idyllic experience in itself, the boating inside is no less joyful.
Situated amidst a lush green shola forest, Pykara Lake is formed as a result of the dam and power plant constructed on the river. A few hundred meters north of the lake, the river tumbles down the rocks to form the famed Pykara Falls. The Boat Club (or Boat House, as popularly called) in the vicinity, adds to the charm of this little panoramic tourist complex among the hills.
This Pykara Lake Boat House, apart from housing a small cafeteria, has several motorboats ranging from 8-seaters to 15-seaters. If you're looking for a thrilling ride instead, you can take the small speedboats.
The greens around, thick forests at the shores and the pines in the backdrop, all create an atmosphere to make you hop on the decks. At Pykara Lake and Falls Ooty, you have everything you need to enjoy a day out with your friends/family or enjoy a solitary nature walk. Whether you're a nature lover, photographer or a newly married couple, you shouldn't miss this attraction near Ooty.
Sit back, relax and read what all you can do at Pykara Lake, apart from gorging on the scenic natural beauty.
Things to do at Pykara Lake
Here's a list of activities you can undertake at Pykara Lake Ooty.
1. Boat riding at Pykara Lake – Maintained by the state government entity – Tamil Nadu Tourism Development Corporation, Pykara Lake Boat House has various motorboats and speedboats available for hire. The large motorboats give you a ride on the lake for 20-30 minutes. Get on board, and admire the beauty of the surroundings while the captain is manoeuvring it around. The small speedboats, on the other hand, are for a 10-minute adventure on the water.
2. Hiking to Pykara Falls – About 1.5-2 km from the lake is the rumbling Pykara Falls. The water, instead of falling from a height, cascades down the rocks. There are two high waterfalls there, one of 55 metres (180 ft) height and other of 61 metres (200 ft). Put on your sports shoes and walk up the steps to have a look. Chirping birds and cool breeze will accompany while you tread up the trail from Pykara Lake to Pykara Falls.
A paid battery car service to the falls is also available if you feel the need.
3. Enjoying at the Boat Club – Those who aren't up for hiking or ready to go into the waters can enjoy their time at the small cafeteria. Walk around, take photographs and sip coffee while watching over the boats. You can buy quick snacks, tea and coffee there.
These are the activities available for you at the Pykara Lake; a place nestled away from the city. The sounds and surroundings are bound to take any stress off for the time being.
Best Time to Visit Pykara Lake
Although water is present year-round, Pykara Lake water level is low during the summer months. Also, the scorching sun makes it a troublesome affair to visit the place during those times. The best time to visit Pykara Lake, therefore, is from October to March. The weather remains pleasant, and even the Pykara Falls are in full force.
Get in there early to avoid rush or waiting time. Boating or hiking in the evening hours will be more comfortable though.
Time to Explore Pykara Lake
Two hours out of your schedule is all you need to explore the lake on a not so busy day. However, during the peak tourist season or on weekends, you will face long waiting times. So, 3-4 hours is a safe assumption to get done with boating and hiking at Pykara Lake. It will also leave you with plenty of time to spend, feasting at the natural beauty.
Pykara Lake Entry Fee and Timings
Although the timings of Pykara Lake in Ooty vary depending on the weather conditions, you can visit it any day. The usual opening and closing timings are 8:30 AM and 5:30 PM, and the entry fee is ₹10 per person.
Pykara Lake boating timings are between 10:00 AM and 5:30 PM every day, and the boating charges are collected per boat instead of the number of people.
The prevailing rates for a 20-min motorboat ride are INR 770+tax for a 8-seater motorboat, INR 890+tax for a 10-seater motorboat and INR 1240+tax for a 15-seater motorboat.
A 10-min ride on a speedboat is charged at ₹800 (plus tax) for two people. One child below 5 years can be allowed extra.
The battery car which operates from the lake entrance to the Pykara Falls costs ₹20 per person.
Image Gallery of Pykara Lake / Boat Club Ooty
Places to visit near Pykara Lake
Pykara Lake is surrounded by many other attractions that you can visit on your Ooty Tour. Here is a list of must-visit places nearby:
1. 6th Mile Ooty: This tourist spot, as the name suggests, is situated after 6 miles on the way from Ooty to Pykara. The place is known for its scenic beauty and thus, is a popular spot for movie shootings. You will also get to see the dwellings and lifestyle of ethnic Toda tribes.
2. 9th Mile Ooty: Also known as Wenlock Downs, this beautiful space is 9 miles away from Ooty, on the way to Pykara. It's a vast expanse of lush green grasslands providing a view of the mountain slopes around Ooty.
3. Ooty Botanical Garden: Lying on the lower slopes of Doddabetta, this beautiful garden is situated in the city of Ooty, about 24 km away from Pykara Lake. Spread over 55 acres, the garden is divided into different sections and boasts of a variety of exotic flowering bushes and trees.
4. Tea Estate View Point: Situated on the way to Doddabetta, this viewpoint for the tea estates around Ooty is around 30 km away from Pykara Lake. You can enjoy the view of flourishing tea plantations and also, experience the process of tea production at the nearby factory. The small shop in the premises sells spices, essential oils, tea mixes and also, locally made chocolates.
5. Ooty Toy Train: Officially called Nilgiri Mountain Railway, it's a 46 km long beautiful train journey between Ooty and Mettupalayam. Taking you through numerous tunnels, curves and bridges, the 5-hour ride with spectacular views of the valley will be in the memory for a lifetime.
How to Reach Pykara Lake from Ooty and nearby?
Pykara Lake is situated in the village of Pykara, a few kilometres off the road, which takes you from Ooty to Mysore. Pykara Lake distance from Ooty is about 20 km, and public buses are available regularly to take you there. You can also hire private cabs to Pykara Lake when you're in Ooty. And here are the various ways to reach Ooty –
By Road – Ooty is connected to nearby major cities by road. As it's a popular tourist destination, regular buses are available from Bangalore, Mysore and Chennai.
By Rail – Mettupalayam is the nearest railway station to Ooty, about 40 km away. Nearby cities like Chennai, Coimbatore and Mysore have trains to take you to Mettupalayam. From there you can take buses or cabs to go to Ooty. You can also take the aforementioned heritage toy train from Mettupalayam to Ooty.
By Air – The nearest airport servicing Ooty is at Coimbatore, 88 km away. Bangalore, Delhi and Mumbai have flights to Coimbatore airport. Bangalore, situated about 300 km away from Ooty, is connected to popular airports in India and around the world.
For a hassle free commutation within the hill station, you can also book a cab from top car rental companies in Ooty and visit all the popular sightseeing places of Ooty in the comfort of a private cab.
Things to keep in mind while visiting Pykara Lake
Here are a few things to make your visit to Pykara Lake memorable –
A visit to Pykara Lake involves walking, so wear comfortable shoes.
If you aren't travelling in a group, be prepared to hitch with others for sharing the boating charges.
Take care of your belongings and beware of monkeys.
---
The Queen of hill stations, Ooty is a beautiful place that offers breathtaking scenic views along with the splendid lakes and lush greenery. To make the most of your holiday, we at Ooty Tourism, a division of Holidays DNA have designed Ooty tour packages that are both pocket friendly and easily customizable. Choose the package according to your needs and budget and have a holiday experience that you would cherish for a lifetime. Please fill the Contact Us form for further queries, and we will get back to you at the earliest.
Location Map for Pykara Lake / Boat Club Ooty