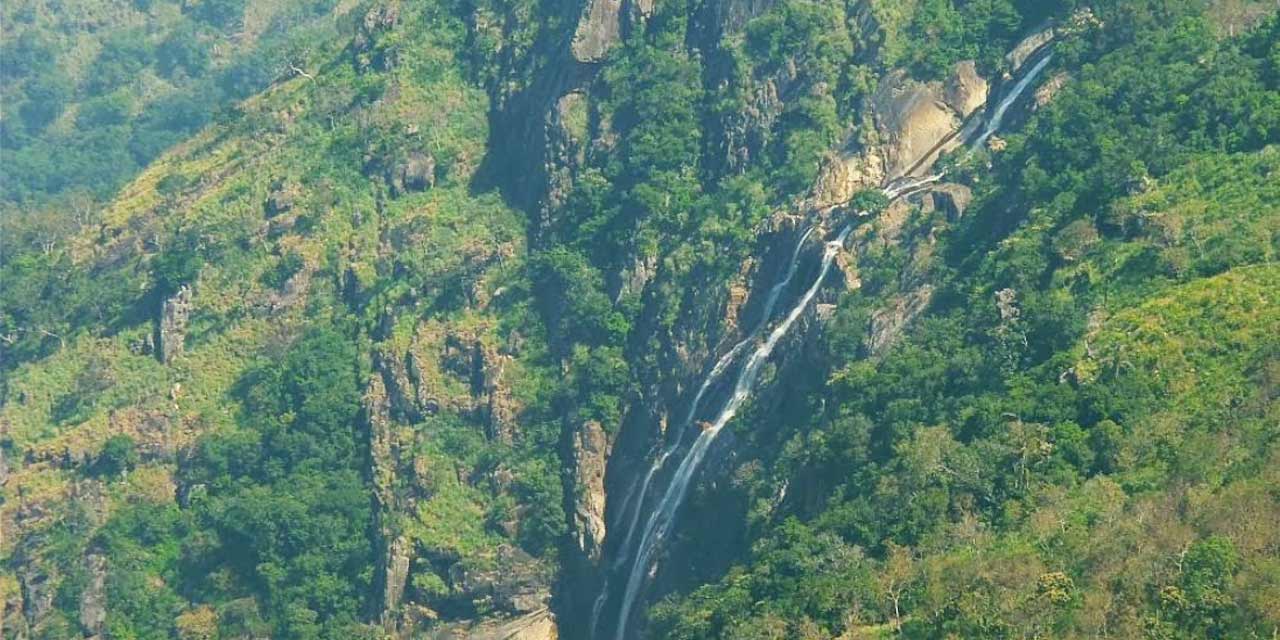 Catherine Falls Coonoor Entry Fee
0 (No Entry Fee)
Catherine Falls Coonoor Phone
N/A
---
Rating:

| 4.3/5 stars
Based on total 72 reviews
Catherine Falls Coonoor Address: Mettupalayam Road, 8 Km From Kotagiri, Coonoor, Tamil Nadu, 643217, India
---
All those who can walk an extra mile to see the best views, Catherine Falls is a perfect summer getaway for you. Situated in the Nilgiris district, Catherine Falls lets you enjoy a stunning waterfall falling from an altitude of 250 feet. It is a hidden gem in Coonoor and an ideal point for families to relax and rejuvenate away from the monotony of everyday life.
Catherine Falls is named after Catherine Cockburn, the wife of M. D. Cockburn, who introduced coffee plantation in Kotagiri. One of the famous tourist attractions in Coonoor, the waterfalls are a treat to the eyes, attracting holidaymakers from different walks of life.
About 7 km away from Kotagiri and 21 km from Coonoor, Catherine Falls offers beautiful views of the Mettupalayam plains, dense forests and the surrounding hillocks. It is a go-to place for a half-day excursion and can be visited from dusk to dawn.
Things to do at Catherine Falls, Coonoor
1. Try your hand at trekking. Catherine Falls offers a great opportunity for beginners to trek through the simpler routes.
2. Photography is another activity, which you can enjoy at Catherine Falls. It gives an excellent photogenic background to capture some amazing clicks.
3. Book a stay at Catherine Greens to spend some more time at this spot. Catherine Falls is a great base for all those who are looking to soothe their senses amidst tranquillity.
Places to Visit near Catherine Falls, Coonoor
There are several options to explore nearby Catherine Falls apart from witnessing the views it beholds. You can take assistance from our team to plan your itinerary as per your holiday duration. The top 5 places to visit in Coonoor are:
1. Dolphin's Nose: Visit Dolphin's Nose viewpoint to admire the lush greenery, majestic waterfalls and awe-inspiring mountains from the top. Here you can also overlook the unobstructed view of the natural beauty along with the tea plantations.
2. Rallia Dam: Another equally fasciation attraction is Rallia Dam, where you can spot a wide variety of animals such as Bisons and Malabar Squirrels in the forest. It is a short drive away from Catherine Falls.
3. Sim's Park: Be sure to take a short stroll at Sim's Park whenever you are on your Ooty tour. Nestled on the slope of the hill, the park offers 1000 plus species of colourful flowers and plants. It is just 6 km away from Dolphin's Nose.
4. Government Botanical Park: Have a fun time with your family at Government Botanical Garden. Spreading over an area of 55 acres, the garden is mainly visited by people for educating their children about nature conservation.
5. Upper Bhavani Lake: Treat your eyes with picturesque views at Upper Bhavani Lake. An ideal spot for nature lovers, the Upper Bhavani Lake is just like heaven on earth. Unlike other attractions, it is a less-crowded place in Coonoor.
Image Gallery of Catherine Falls Coonoor
Entry Fee and Timings of Catherine Falls, Coonoor
There is no entry fee for Catherine Falls in Coonoor. It is open for its visitors from 6:00 AM to 6:00 PM on all days of the week. The recommended exploration time is 1-2 hours.
Traveller Tips for Catherine Falls, Coonoor
1. Carry enough food and water bottles with you. There are no eateries available around the location.
2. Do not throw anything here and there. It is your responsibility to keep the place clean and green.
3. Wear comfortable shoes to enjoy your trek the most. Make sure that you have the prior permission for the Longwood Shola Forest trek from the local forest officer.
Best Time to Visit Catherine Falls, Coonoor
Although Catherine Falls maintains its charm throughout the year, the ideal time would be after the monsoon i.e., from October to May. You will experience good rainfall all over the place and moreover, the weather is also quite pleasant. Avoid visiting the Catherine Falls in the summer season. At this time, the level of water sometimes gets decreased.
The early morning mist gives you a perfect view, making your visit to Catherine Falls an unforgettable moment. However, if you are not a morning person, you can also plan to soak up its unmissable beauty even in the afternoon. Try heading back home before sunset, as the area has limited access after dark.
How to Reach Catherine Falls, Coonoor?
To reach Catherine Falls, there are main 3 modes of transport available. You can choose whatever suits you the most.
By Air: If you are travelling by air, Coimbatore International Airport is the nearest airport which is nearly 50 km away from the destination. Coimbatore Airport is well-served by both domestic and international tourists. From the airport, opt for a private or a shared taxi to get to this popular attraction.
By Train: Approximately 33 km away is the Mettupalayam Railway Station and around 29 km away is the Ooty Railway Station. You can enjoy a train service at any of the stations. These 2 stations connect Ooty with the metro cities of India such as Kochi, Jaipur, Puri, Lucknow, Ahmedabad, Kanyakumari and more. After arriving in Ooty, experience the further journey through Nilgiri Toy Train to have the best time of your life.
By Road: Choose to travel by road if you want to feel the magic of Ooty on your way. There are several private and government-owned buses that operate daily for the convenience of tourists. You can also hire a private vehicle from one of the leading car rental companies in Ooty for hassle free commutation within the hill station. However, the entry of the vehicles up to the falls is not allowed, so one must need to trek to reach Catherine Falls.
---
To make your Ooty tour a memorable one, we at Ooty tourism, a division of Holidays DNA, have carefully designed the Ooty tour packages that help holidaymakers to explore the best places in Coonoor. Please fill the Contact Us form to talk to our experts today. One of our representatives will reach you out soon!
Location Map for Catherine Falls Coonoor