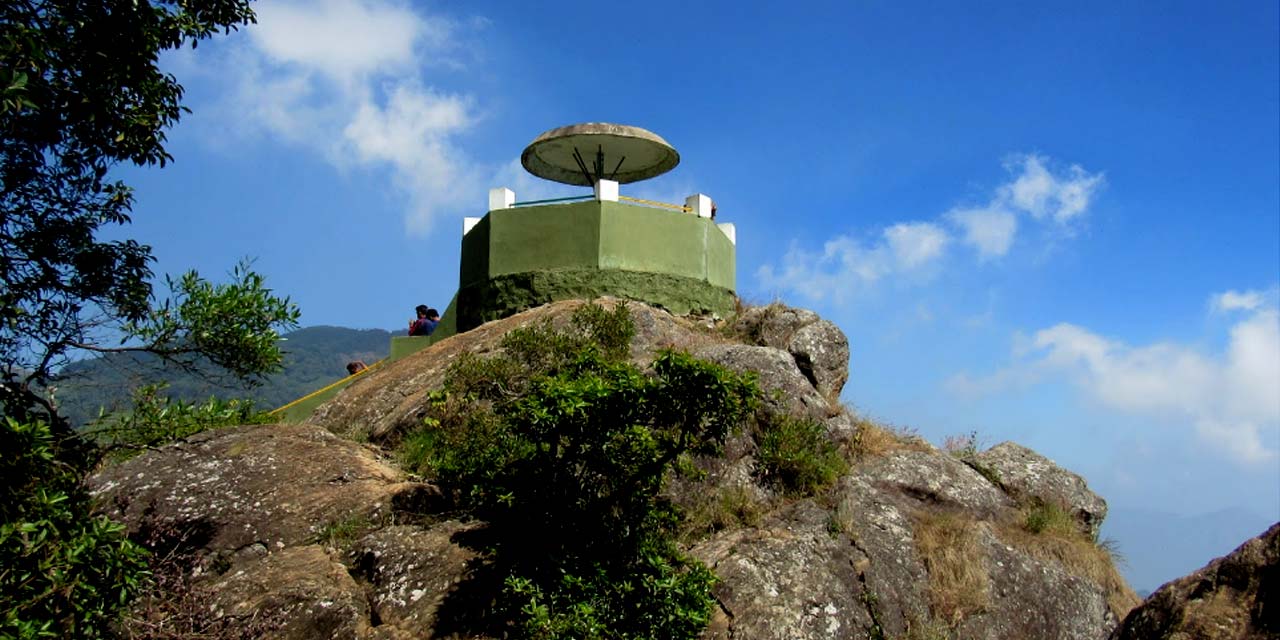 Lamb's Rock Coonoor Entry Fee
10 per person
20 for Still Camera
50 for Video Camera
Lamb's Rock Coonoor Phone
N/A
---
Rating:

| 4.3/5 stars
Based on total 74 reviews
Lamb's Rock Coonoor Address: Lamb's Rock, Coonoor, Tamil Nadu, 643101, India
---
Nothing is more romantic than witnessing the sunrise and sunset with your loved ones, right? Well, Lamb's Rock is a place where you can enjoy the cool breeze amid lush greenery and tranquillity.
Counted as the topmost tourist attractions in Coonoor and a must-visit place for nature admirers, the Lamb's Rock offers some fascinating views of the surrounding valleys, which are hard to miss. It is a romantic gem for couples and a famous picnic spot for families with children.
Perched on the way to Dolphin's Nose, the Lamb's Rock is just 7 km from the heart of Coonoor. Enjoy the calmness all around, feel the cool breeze blowing your mind or treat your taste buds with a sip of Nilgiris Tea.
You can also try your hand at an adventurous trek to observe the view from its top. The place has some magic that relaxes and rejuvenates the senses of people who are coming from every corner of the world.
Things to do at Lamb's Rock, Coonoor
1. Witness a panoramic view of Coonoor, the tea and coffee estates, lush greenery, thick forests covered by clouds and the plains of Coimbatore under one roof. It is undoubtedly a nature of delight for experience seekers.
2. Take as many photographs as you can. In case you forgot to bring your own camera, you can also ask the local photographers to capture some of your best shots.
3. Enjoy a trek for about 500 meters to add some spice to your life. The place offers an unparalleled trekking experience, as you get a chance to explore the hidden beauty of the paradise and wonderful sights on your way.
Image Gallery of Lamb's Rock Coonoor
Places to visit near Lamb's Rock, Coonoor
Wondering what to do after spending an hour or two at Lamb's Rock? There are several places to explore around the place. We have summed up the top 4 places to visit near Lamb's Rock in Coonoor:
1. Lady Canning's Seat – Gift yourself a perfect retreat at the Lady Canning's Seat. Nestled in the outskirts of Coonoor, the serene viewpoint boasts of a view of the Nilgiris and is no less than a heaven for sightseeing lovers. It is just 1.3 km from Lamb's Rock.
2. Dolphin Nose – Visit Dolphin Nose to see the fabulous views of the landscapes. It is a great point for a family vacation. Here you can also get food from the nearby food stalls to fulfil your appetite with some light snacks. The place is just 2.9 km from Lamb's Rock.
3. Rallia Dam – Take some time off for Rallia Dam whenever you are on your Ooty tour. This small dam is a beautiful secluded spot that lets you admire the pristine nature away from the overcrowded areas of the hill station. It is just 3 km from Lamb's Rock.
4. Sim's Park – If you are interested in learning about the exotic species of different flowers and plants, you should pave your way towards Sim's Park. It is an excellent garden with a small boating area, a rose garden and a lily pond area. The park is just 4.2 km from Lamb's Rock.
Entry Fee and Timings of Lamb's Rock, Coonoor
There is no entry fee and fixed timings for Lamb's Rock in Coonoor. Tourists can come to this spot at any time of the day, but the recommended time duration is from early morning to late evening.
During sunrise, the viewpoint looks stunning with sun rays clearing the tiny water droplets to uncover the breathtaking views of the hills, whereas the sunset gives you a chance to see the place turning into darkness.
Travellers Tips for Lamb's Rock, Coonoor
1. Make sure to check the weather forecast before you plan to visit Lamb's Rock. It is one of the best sightseeing places in Coonoor on a clear-skied day, with views at its best.
2. Keep your food and other belongings safe from the monkeys. The mountainous region has several stray monkeys.
3. Always wear comfortable clothes and footwear to make the most of your trek.
4. Carry a pair of binoculars to soak up the lush greenery surrounding the place.
5. Do not throw anything here and there at Lamb's Rock. There are heavy fines.
Best Time to Visit Lamb's Rock
The best time to visit Lamb's Rock is during the warm summers i.e., in the month of March. At this time, the place transforms itself into a marvellous viewpoint, with its beauty getting personified and moreover, the weather is also in favourable conditions.
How to Reach Lamb's Rock, Coonoor?
Since the place is only 8 km away from Coonoor, it can be easily accessed via a local mode of transport. You can also hire a private vehicle from the list of top car rental companies in Ooty to have a perfect time of your life.
By Air: Coimbatore International Airport is the nearest airport to reach Lamb's Rock in the least possible time. It is well-connected to the metro cities of India and offers direct flights from Hyderabad, Bangalore, Mumbai, New Delhi and Chennai Airport. After arriving in Coonoor, opt for either a bus or a cab to get to your destination.
By Train: Coonoor is 46 km away from Mettupalayam Railway Station and 75 km from Coimbatore Railway Station. From there, you can look for a local taxi service that takes you to Lamb's Rock. There is also a toy train ride in Ooty that links Coonoor railhead to several other areas of the hill station. So, the choice is completely yours!
By Bus: Last but not least, the government of Tamil Nadu operates various buses from Ooty to Coonoor and vice-versa. Other than that, private buses and luxury coaches are also available for ease to tourists. However, the booking of air-conditioned buses is done in advance.
---
To make your journey a memorable one, we at Ooty tourism, a division of Holidays DNA, offer a wide variety of Ooty tour packages that help holidaymakers to enjoy their vacation without any worries. Our team of experts also customize the packages suiting your budget requirements. You just need to fill the Contact Us form to know more about our services.
Location Map for Lamb's Rock Coonoor