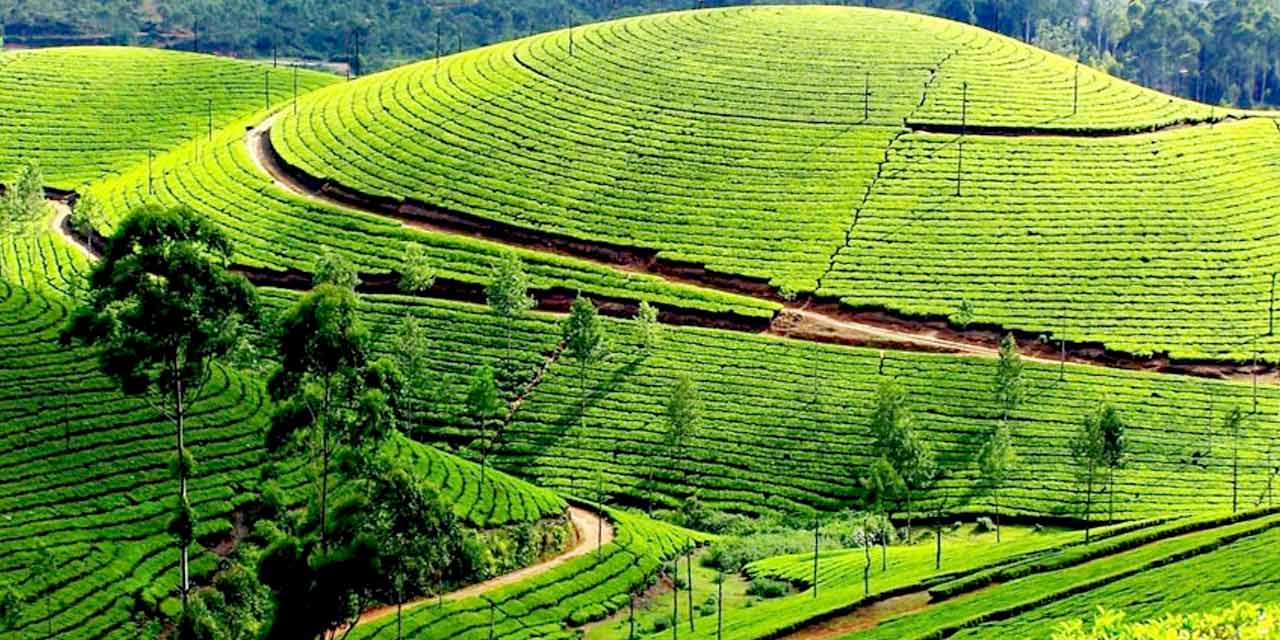 Coonoor Tea Estate Entry Fee
0 (No Entry Fee)
Coonoor Tea Estate Phone
---
Rating:

| 4.5/5 stars
Based on total 81 reviews
Coonoor Tea Estate Address: Dolphin's Nose Rd, Alwarpet, Burliyar, Coonoor, Tamil Nadu, 643103, India
---
An idyllic destination for a perfect weekend getaway in Coonoor is Coonoor Tea Estate. It is a place where you can treat your taste buds with a sip of tea while admiring the breathtaking background of hilly mountains.
Nestled just a short stroll away from the centre of the town, Coonoor Tea Estate is a famous scenic point for all those who are looking to enjoy the lush vegetation with the most spectacular ranges of South India. Owing to its greenery, surreal setting and a pleasant atmosphere, the estate draws tourists from everywhere and has become one of the best places to explore on the Ooty tour.
The aroma of fresh tea leaves makes you feel proud of being a TEA LOVER, whereas the gorgeous views allow you to enjoy nature at its best. Here you can also take leisure walks through the plantation, laze around during the day or simply indulge your senses in a fine fragrance. Other than that, there is also a shop where you can stop to bring the different flavours of tea back home.
Places to Visit near Coonoor Tea Estate
With so much to explore in and around the Coonoor Tea Estate, it might get difficult about what to decide on. So, here is a list of things you can consider following while looking for the best places to visit in Coonoor:
1. Sim's Park: If you have a deep interest in a wide variety of trees and flowers, Sim's Park can be the right destination for you. Home to 1000 plus species of trees and flowers, the park lets you spend your relaxed evenings in a beautiful botanical garden. Here you can also ask the professional photographers to capture some amazing clicks – with a worth-watching background at the backdrop.
2. High Field Tea Estate: Another equally fascinating attraction near Coonoor Tea Estate is High Field Tea Factory where you can see the entire process of how the tea leaves are processed. It is a 50-year old factory that offers a mind-blowing experience with nice and interesting scenery. Do give a try to their MASALA Tea; it is hard to get the same taste anywhere else in the world.
3. Catherine Falls: Nothing can beat the beauty of a place, which is surrounded by double cascading waterfalls, tea gardens, undisturbed views and the plains of Mettupalayam. Catherine Falls, a blissful spot for wanderers and experience seekers, is a paradise to cut off from the crowd in Coonoor. It is a common place for locals to hang out with their friends and can be frequently visited from sunrise to sunset.
4. Dolphin's Nose Viewpoint: Widely famous among adventure enthusiasts and nature admirers, the Dolphin's Nose Viewpoint is a romantic gem for honeymooners and a picnic spot for families with children. Look at one side and enjoy the 180-degree view of the scenery. The other side offers an unobstructed view of the Kotagiri streams. Beware of the monkeys; they might try to snatch the things away from you.
5. All Saints Church: Make sure to take some time off for All Saints Church in Coonoor. Featuring a beautiful architecture with antique wooden work, the All Saints Church was constructed in the year 1851 and is one of the oldest churches of the hill station. Attend the Sunday Mass if you are planning to visit it on weekends; it is a great way to interact with the locals.
6. Rose Garden: Witness more than 20,000 varieties of roses at the Rose Garden. Also referred to as the pride of Ooty, Rose Garden is a well-maintained garden by the Government of Tamil Nadu and is spread over an area of 5 acres. It offers a delightful experience to not only eyes but also a must-visit tourist attraction for photographers who want to capture the shots beyond their imagination.
Image Gallery of Coonoor Tea Estate
Entry Fee and Timings of Coonoor Tea Estate
There is no entry fee to visit Coonoor Tea Estate. It welcomes its visitors from 6:00 AM to 5:00 PM on all days of the week.
Best Time to Visit Coonoor Tea Estate
The best time to visit Coonoor Tea Estate would be during the winter season i.e.; from October to March. At this time, the climate remains quite pleasant and mildly cold, attracting tourists from all around the world.
You can also plan your itinerary during the monsoon season. The monsoon in Coonoor starts in July and lasts until September. Although the rainfall does not cause any problem, the consistent light showers might take its charm away. So, if you are not a monsoon lover, you should avoid visiting it at that time.
How to Reach Coonoor Tea Estate?
Coonoor maintains good connectivity with all the metro cities of India such as New Delhi, Mumbai, Pune, Bangalore, Hyderabad and Chennai. You can easily reach here through the main 3 modes of transportation:
By Air: Approximately 81 km drive away from Coonoor is Coimbatore International Airport that is well-served by both domestic and international flights. You can board a direct flight to Coimbatore to reach Coonoor in the least possible time. From the airport, there is an availability of several taxis and buses that take you to your destination.
By Train: The nearest railway station to Coonoor is Coimbatore. Mettupalayam Railway Station is another station that offers train service from the other parts of the state. After arriving at Mettupalayam, one can catch the Nilgiris Mountain Railways to enjoy the scenery on the way. However, the booking of the toy train is done in advance, especially during the festive season.
By Road: Enjoy the road journey through private and state-owned buses that operate frequently from and to Ooty. Apart from the regular buses, the government also runs luxury coaches with air-conditioning facilities for your utmost comfort. You could also choose to hire a private vehicle from the list of top car rental companies in Ooty for hassle-free commutation within the hill station.
---
Depending on your holiday budget, duration and other needs, we at Ooty tourism, a division of Holidays DNA, present our clients with all-inclusive and customized Ooty tour packages. Choose us to avail the best travel deal. We also assist people in shortlisting the best places to visit in Coonoor. Please fill the Contact Us form to know more about our offerings!
Location Map for Coonoor Tea Estate