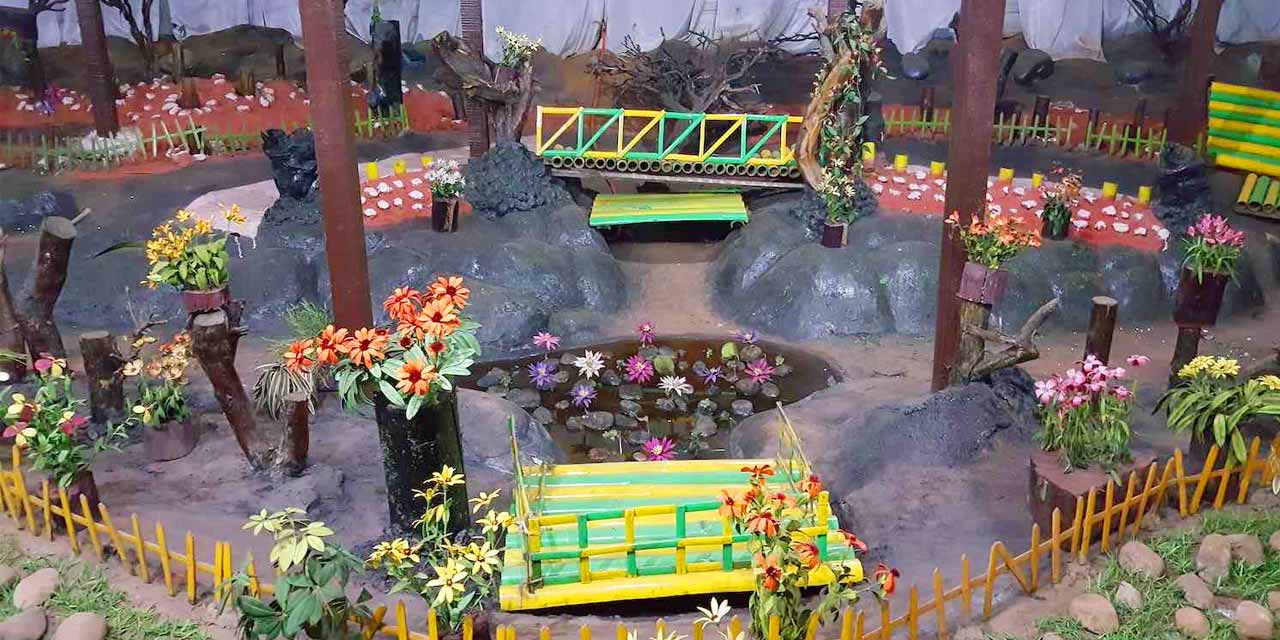 Ooty Thread Garden Entry Fee
30 per person for Adults
15 per Kid (5 to 15 Yrs)
50 for Still Camera
100 for Video Camera
Ooty Thread Garden Phone
---
Rating:

| 4.3/5 stars
Based on total 86 reviews
Ooty Thread Garden Address: North Lake Road, Opp. Boat House, Kathadimattam, Ooty, Tamil Nadu, 643001, India
---
Just opposite the Ooty Lake, lies the little Thread Garden of Ooty, full of beautiful artificial flowers. But wait! The flowers aren't the plastic ones available in your neighbourhood gift shop. Those, instead, are made up of threads.
As you enter the dimly-lit space, brightly coloured flowers, plants and lawns will welcome you, and those are all woven to take the form that you see today. A garden of flowers which will never die, the leaves which won't dry, and the plants which are bound to retain their vividness for long.
Mr Antony Joseph – a professor, along with other skilled workers, used his self-discovered "Four Dimensional Hand Wound Embroidery" technique to create the masterpiece. The entire garden has been crafted only using coloured thread, canvas and wire. The workers did it all with hands, without any help of machinery, and it took them 12 long years to finish.
Their unfaltering attention and the neat work have won them numerous accolades. Go and feel those threaded art pieces for real.
Things to do at Ooty Thread Garden
The main activity at the Thread Garden in Ooty involves you getting blown by those unbelievable artefacts. Every flower, each stem and the entire greenery have been produced by hand weaving coloured embroidery threads with canvas and wire. The designs are flawless and the colours more real than the natural flora. Some of the arts might even leave you wondering if they are artificial or real.
For art lovers, Ooty Thread Garden is a must-visit tourist spot during their ooty tour. In that small space, you will encounter over 150 types of artificial flowers, all handmade. Forget your camera or mobile for a while, and just go over the exhibits. The guide there will help if you need any further information about the history or the process involved.
If you want to buy some pieces for your home, you can do so at the counter near the exit. Those beauties are delicate. Therefore, the ones available for sale are recessed in sealed glass cases to keep them safe from dust and damage.
Best time to visit Ooty Thread Garden
Ooty is accessible throughout the year, and so is this unique artificial flower garden in Ooty. The summers in Ooty, however, aren't travel-friendly. Thus, the best time to venture around those man-made marvels is between October and March. The Sun isn't fierce, and the temperature remains at pleasant levels.
Time to explore Ooty Thread Garden
It doesn't take more than an hour to go over the collection available at Thread Garden Ooty. Take your time to explore the intricate details of those skillful crafts, which took years to take the present form.
Ooty Thread Garden Timings and Entry Fee
This one of a kind art exhibition is open from 9 AM to 5 PM, and the entry fee is ₹30 per person. For children (between 5-15 years old), Thread Garden Ooty entrance fee is ₹15 per kid. With the payment, you're entitled to witness the colourful and lively world created with threads. If you want to capture some with your camera, you have to pay extra for the same.
Image Gallery of Ooty Thread Garden
To use Still Camera, you have to shell out ₹50 and to record videos; the fee is ₹100.
How to reach Thread Garden in Ooty?
Ooty is a major tourist destination in South India. Therefore, it has good road connectivity with nearby airports and railway stations. Here are the various ways to reach Ooty –
By Road – Ooty is connected to major cities in Tamil Nadu, Kerala and Karnataka by road. And you can drive a car or hire one from top car rental companies in Ooty to reach there. Also, regular buses ply from Coimbatore to Ooty. One can get conveyance from the metropolitans Bangalore and Chennai too.
By Rail – Trains from Chennai and Coimbatore run daily for Mettupalayam. It is the nearest railhead for Ooty. You can board a bus or get a taxi after you alight from your train. Apart from a bus/taxi, you can also take the toy train that runs between Mettupalayam and Ooty. The distance between the two towns is around 40 km.
By Air – The airport at Coimbatore (88 km away) is the nearest to Ooty. It sees regular flights from Bangalore, Delhi, Mumbai and other cities of India. International tourists can get a flight to Bangalore (300 km away from Ooty) and then board one for Coimbatore.
At only 1.5 km away, Ooty Thread Garden isn't far away from Ooty bus stand. You can take a public bus or pay a taxi to take you to this small art gallery. It's situated right across the road from Ooty Lake.
Interesting Facts about Thread Garden
The materials used in those artworks came from Coats (India) – a world-famous thread manufacturer.
50 skilled workers crafted those artefacts on display, and it took 12 years of hard work.
The flowers and all other creations there need protection from bright light.
The overall length of the thread used measures 60 million metres.
Antony Joseph and his team experimented with 400 different colour shades.
The garden was in Malampuzha (Kerala) earlier. It was moved and set up at its current location in 2002.
India Book of Records, Tamil Nadu Book of Records, and Unique World Records mention Ooty Thread Garden as one of its kind in the world.
To explore Thread Garden and other such marvels of Ooty, we at Ooty Tourism, a division of Holidays DNA have designed all-inclusive Ooty tour packages that you can choose from. These packages are pocket friendly and include a visit to all major sightseeing places of Ooty in the comfort of a private cab. To know more about the various package details, please fill the Contact Us form.
Location Map for Ooty Thread Garden