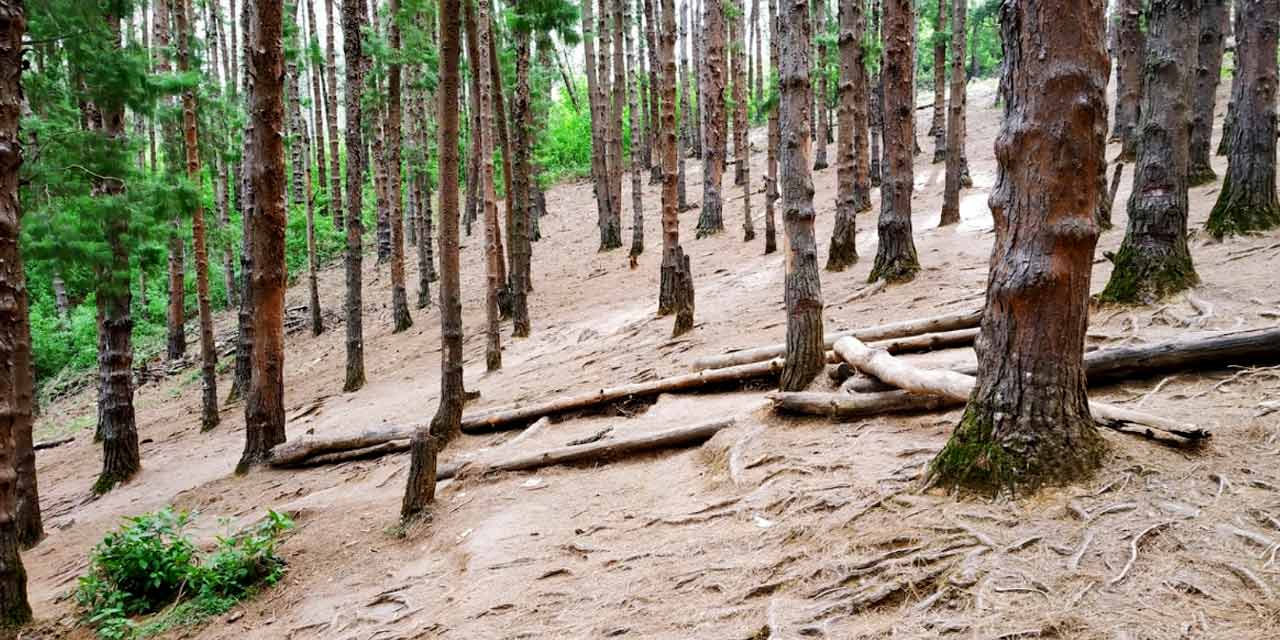 Pine Tree Forests Ooty Entry Fee
5 per person
30 for Still Camera
Pine Tree Forests Ooty Phone
N/A
---
Rating:

| 4.3/5 stars
Based on total 105 reviews
Pine Tree Forests Ooty Address: Nagapattinam - Coimbatore - Gundlupet Hwy, Ooty, Tamil Nadu, 643005, India
---
All nature lovers who fancy overlooking the vast landscapes of the Nilgiri hills along with enjoying the jaw-dropping sights, the best place for you to have a great time would be the Pine Tree Forests in Ooty. This picturesque location has so much to offer for tourists of all ages and one of the magical wonders is its scenic canvas of tall and magnificent trees.
It is a famous shooting spot in Ooty. The soaring pines, breathtaking views and a pleasant atmosphere makes it a perfect base for filming various movies. Several Bollywood hit films such as Qayamat se Qayamat tak, Khuda Gawah, Sadma, Dil and Deewana have been shot here. You can also witness the stunning vicinities of this forest in a Tamil song, Dheena.
Visitors from all around the world visit this place to recollect those old Hindi memories on their Ooty tour. So, make sure you do not miss it whenever you plan your trip to the Queen of hill stations.
Nestled in between Ooty and Thalakunda, the Pine Tree Forests boasts of a good collection of orderly planted pine trees, which ranges from 3 meters to 80 meters in height. Overlooking the Sandy Nulla Lake, the most abundant species of the pine trees that exist here are the Siberian Dwarf, Ponderosa and Potosi Pinyon. While a few of the trees are about to cross 1000 years of age, most of them are already 4000 years old.
Here you can stroll around the place to spot the squirrels, moths and goats in the forest. Watch a wide variety of colourful butterflies flying in the air or dance to the melodious chirping of mountain birds. And if you are lucky enough, you can also get a chance to explore the wildlife sanctuary. What else do you need? Just pack your bags and get ready to make the most of this location.
Things to do at Pine Tree Forests, Ooty
1. Indulge in a Photography Session - One of the topmost things to do at Pine Tree Forests is photography. The place offers a captivating scenery to capture some awesome photos with thick, swirly and dense trees in the background.
2. Enjoy a remarkable Camping Experience - Another exciting activity is the camping experience. It is an outdoor recreational adventure where you can spend some thrilling time with your friends or family members in a temporary shelter.
3. Try your hand at Horse-Riding - If you wish to do something unique and different on your visit to Ooty, give a try to horse riding. The feeling of the cool mountain breeze blowing your mind as you pave your way through the forest will make you forget everything about the metro life for some time.
Places to Visit near Pine Tree Forests, Ooty
Wondering what to do after spending 1-2 hours at Pine Tree Forests in Ooty? There are several nearby places to explore around the location. You just need to plan your itinerary with Ooty tourism to have a perfect time of your life. Here are the top 3 tourist attractions to visit in Ooty:
1. Kamaraj Sagar Dam – Kamaraj Sagar Dam or Sandynalla Reservoir is a popular base for nature lovers and environmentalists. It is an ideal spot to get a glimpse of the bird species, which belong to different families.
2. 6th Mile – Located just 6 miles from the heart of the city centre, the 6th Mile is widely known among the holidaymakers for its go-to leisure excursion. Here you can witness the surrounding landscapes with Ooty views at its best.
3. Pykara Lake – Combining ambiance with impressive beauty, the Pykara Lake draws tourists of all kinds, whether an adventure seeker, nature admirer or a photographer. It is a fun-filled place that features a boathouse with a restaurant and a rest house. The boathouse is usually crowded on the weekends.
Entry Fee and Timings of Pine Tree Forests, Ooty
The entry fee for Pine Tree Forests in Ooty is INR 5 per person for adults and INR 30 for a still camera. It is usually open for its visitors on all days from 8 AM to 6 PM, but for all those who have rented this location for shooting a movie scene or a song, the place can be visited at any time with prior permission.
Image Gallery of Pine Tree Forests Ooty
Travellers Tips for Pine Tree Forests, Ooty
Do not litter the place. It is your responsibility to clean it up after you're done with the picnic.
Take some snacks, light refreshments or any other eatables along. Sometimes, the nearby shops remain closed.
Make sure to carry a woollen shawl, jacket or a stole with you. The weather might turn too cold by the time you wish to return.
How to Reach Pine Tree Forests, Ooty?
Since Pine Tree Forest is only 9 km away from the city centre, it can be easily accessed via a private taxi or a bus.
By Air: Coimbatore International Airport is the closest air terminal for tourists who are flying to Ooty. It serves various flights for domestic and international travellers. Domestic travellers can board a direct flight from New Delhi, Mumbai, Hyderabad and Ahmedabad airport and international travellers can take a flight from Singapore or Jeddah airport to reach Bangalore in the least possible time. After arriving at the airport, look for a local mode of transportation.
By Road: Getting to Pine Tree Forest by road is another simplest way. For your convenience, the Tamil Nadu Government runs several regular, private and luxury coaches to and from Ooty, which is well-connected to the other states of India. From Ooty, you can get into a bus heading towards Thalakunda or you can take a bus that travels to Mysore.
By Train: Approximately 45 km away from Ooty is the Mettupalayam Railway Station, which provides rail service from Kochi, Jaipur, Ahmedabad, Kanyakumari, Lucknow and Puri. Tourists can enjoy an unforgettable Nilgiri Toy Train ride from Mettupalayam to Ooty to overlook the scenic views on your way. Though the toy train takes time, it offers an experience to remember for a lifetime.
---
Book an Ooty tour package with us to enjoy your holiday at pocket-friendly prices. We at Ooty Tourism, a division of Holidays DNA, present our clients with various travel deals. Keeping your holiday duration in mind, our experts help you cover the popular sightseeing places in Ooty. What's more? We have also curated a list of leading car rental companies in Ooty. To know more about the offerings, please fill the Contact Us form. One of our representatives will reach you out shortly.
Location Map for Pine Tree Forests Ooty