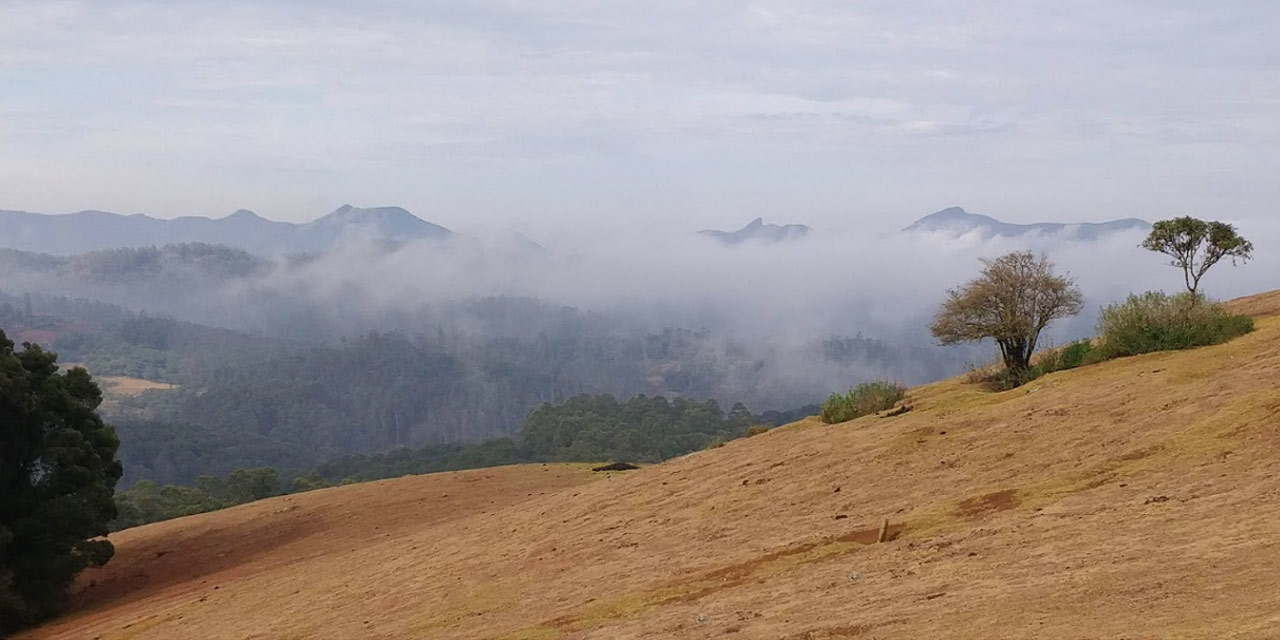 6th Mile Ooty Entry Fee
5 per person
6th Mile Ooty Phone
---
Rating:

| 4.8/5 stars
Based on total 104 reviews
6th Mile Ooty Address: The Nilgiris, Ooty, Tamil Nadu, 643001, India
---
Nestled in the Nilgiris, Ooty is blessed with natural beauty. There are picturesque green valleys, towering blue mountains and numerous tranquil waterfalls. Scenic viewpoints are everywhere to drench yourself in the panoramic views of the landscape. 6th Mile Ooty is one such tourist spot.
Where is 6th Mile Ooty? It is 6 miles (or about 10 km) away from Ooty. It is a part of the Wenlock Downs and numerous Indian movie shootings have taken place over the years. The area is surrounded by dense Shola forests, and those form a stunning backdrop for these extensive lush green grasslands.
6th Mile Shooting Spot Ooty is relaxing, and it's a pleasant space allowing you an escape from the chaotic hustle and bustle of city life. Even the drive towards 6th Mile has a calming effect. So, pack your bags and don't forget to check this serene landscape during your Ooty trip.
Things to do at 6th Mile Ooty
Unlike 9th Mile, 6th Mile viewpoint offers gorgeous views of the valley splashed with the indigenous Shola forests. Below is a list of activities available at 6th Mile Ooty.
1. Checking out the views – Surrounded by the Shola forest, the location of 6th Mile Ooty offers a perfect opportunity for some quick but spectacular photographs of the valley. Settle down your bags, pull out your camera and let the lens capture the greenery around, with the Nilgiris standing tall at a distance.
2. Toda hamlets (or munds) – Living nearby 6th Mile are the members of the ethnic Toda tribe. You can recognise their iconic barrel-shaped munds even from a distance. Made up of bamboo and grass, the striking feature of these huts is the small door. You will have to crawl through to enter or exit. Also, Toda munds don't have any windows.
You will need a local person to help you strike a conversation with this pastoral community if you want to learn more about their customs and traditions.
3. School mund – A somewhat unknown tribal school is also there, at 6th Mile. And that's worth checking too if you are looking for opportunities to peek into the life of the tribe.
Best time to visit 6th Mile Ooty
Even mild rainfall can turn the meadows muddy and spoil the experience. Therefore, 6th Mile is best to visit when the sky is clear, and the weather is dry. So, the best time for 6th Mile would be from December to April. During those months, the season of rains is far, the Sun isn't fiery hot, and the weather is pleasant enough to explore the area.
Image Gallery of 6th Mile Ooty
Time to explore 6th Mile Ooty
The place is known for its picturesque landscape and a spot for movie shootings. So, give yourself an hour at least, to comfortably check those grasslands and the views surrounding the area. If you want to dig in the life of the Todas and know about them, set aside an extra hour.
6th Mile Ooty Timings and Entry Fee
Entry fee to sixth mile Ooty is Rs. 5 per person. And you can visit the spot throughout the day, whether you want to enjoy the chilly mornings or the cool calming breeze in the evening. However, it's suggested to be there only during the daytime, from 8 AM to 6 PM. The best views are available during the afternoon when the sky remains clear.
How to reach 6th Mile Ooty?
Ooty to 6th Mile distance is about 10 km, on the way to Pykara Lake, and you can take a bus to reach the place. Taxis also are available for hire from the bus stand itself. And you have the following reliable ways to reach Ooty.
By Road – The best way to reach Ooty is by the roads winding through the tea estates and the slopes of Nilgiris. It takes only a few hours to reach Ooty from Bangalore and other nearby cities. Regular bus services are available or you can book a cab from top car rental companies in Ooty for the entire Ooty tour.
By Rail – Ooty has a railway station but only for a meter gauge train (known as the toy train), which connects Ooty to Mettupalayam, 40 km away. It's the nearest mainstream railway station which has regular trains from cities like Chennai and Coimbatore.
By Air – The nearest airport is at Coimbatore, 88 km away. Flights from Bangalore, Chennai, Hyderabad and other Indian cities land there. International travellers need to book their tickets to Bangalore. From Bangalore, one can take another flight to Coimbatore or travel to Ooty directly, by road.
---
Ooty has a lot to offer and to explore it in the best possible manner, Ooty Tourism, a division of Holidays DNA has designed all-inclusive Ooty tour packages that are easy on your pocket too. You can choose the best suitable package and visit all the popular sightseeing places of Ooty quite comfortably. Please fill the Contact Us form for further details.
Location Map for 6th Mile Ooty