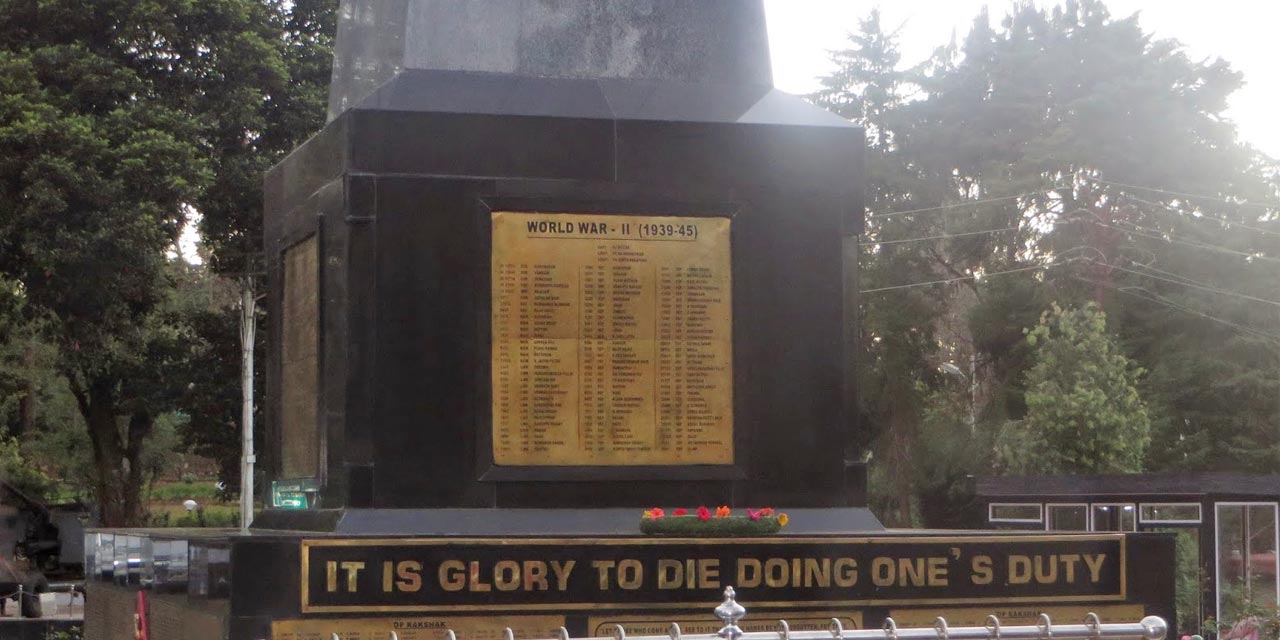 Second World War Memorial Pillar Coonoor Entry Fee
0 (No Entry Fee)
Second World War Memorial Pillar Coonoor Phone
N/A
---
Rating:

| 4.3/5 stars
Based on total 78 reviews
Second World War Memorial Pillar Coonoor Address: Defence Services Staff College, TDK Pillai Rd, Wellington, Coonoor, Tamil Nadu, 643231, India
---
Step back in time and get amazed by its history and amazing architecture at Second World War Memorial Pillar. It is one of the most sought-after tourist places to visit in Coonoor.
Located in Wellington, Second World War Memorial Pillar has a short story attached to it. It is generally said that the pillar was constructed in the remembrance of those people who died fighting for their country during the Second World War. The place is used by the Indian Army and features the Indian Defence Services Staff College where special training is given to the officers of the Indian Army.
Tourists from different walks of life love visiting this memorial pillar at least once in a lifetime – to make their children aware of the humanity loss. The feeling of being patriotic is still ALIVE here. Don't forget to watch the march-past in the evening! It makes you feel proud of who you are as a person.
Things to do at Second World War Memorial Pillar, Coonoor
1. Enjoy a short stroll at the nearby park to have a look at the models of war airplanes. It has a jet plane and canon for public display.
2. Visit the Wellington Golf Course to try your hand at golf. Nestled amidst the lush-green tea plantations and slopes, the Wellington Golf Course leaves you spellbound with its aesthetic charm. There is also a tennis court, cricket pitch and a restaurant for the enjoyment of visitors.
3. Capture natural beauty, landscapes, thick forests and panoramic views in your photos. Coonoor has excellent viewpoints for photographers to click some amazing shots – with a die-to-fall background at the backdrop.
4. Get adventurous with a wide variety of recreational sports on your Ooty tour. The Queen of hill stations offers you several opportunities to make your trip an unforgettable one. A few of the adventurous activities include water rafting, mountain biking, hiking and trekking.
Entry Fee and Timings of Second World War Memorial Pillar, Coonoor
There is no entry fee for Second World War Memorial Pillar in Coonoor. It is open for its visitors throughout the day and the recommended exploration time is 2 hours.
Second World War Memorial Pillar Coonoor Image Gallery
Travellers Tips for Second World War Memorial Pillar, Coonoor
1. Refrain from clicking the pictures. It is not allowed to take photographs of the Second World War Memorial Pillar.
2. The entry of the vehicles is restricted around the place. You need to walk on foot to explore this memorial.
How to Reach Second World War Memorial Pillar, Coonoor?
Since the Second World War Memorial Pillar is only 3 km away from Coonoor, it can be easily accessed by a local taxi, bus or an auto-rickshaw.
By Air: Board a flight to Coimbatore International Airport to reach Coonoor in the least possible time. The Coimbatore Airport serves direct and connecting flights from both domestic and international air terminals.
By Road: For your convenience, the Tamil Nadu State Transport Corporation also operates regular buses, which connect the major cities of India to Ooty and Ooty to Coonoor. You can also book an advance ticket for luxury coaches to make the most of your road journey.
By Train: Last but not the least, travellers can also enjoy the train service to get to their destination in the most comfortable way. The memorial pillar is within easy reach of the Wellington Railway Station, which makes it easy for tourists and locals to commute here and there. After arriving in Coonoor, hire a private taxi from one of the leading car rental companies in Ooty for a hassle-free experience.
---
Catering to everyone's needs and budget requirements, we at Ooty tourism, a division of Holidays DNA, carefully design customized and all-inclusive Ooty travel packages for our valuable clients. Get in touch with our team through Contact Us form and know more about our offerings! We also offer the best travel deals at competitive prices. What else do you need?
Location Map for Second World War Memorial Pillar Coonoor