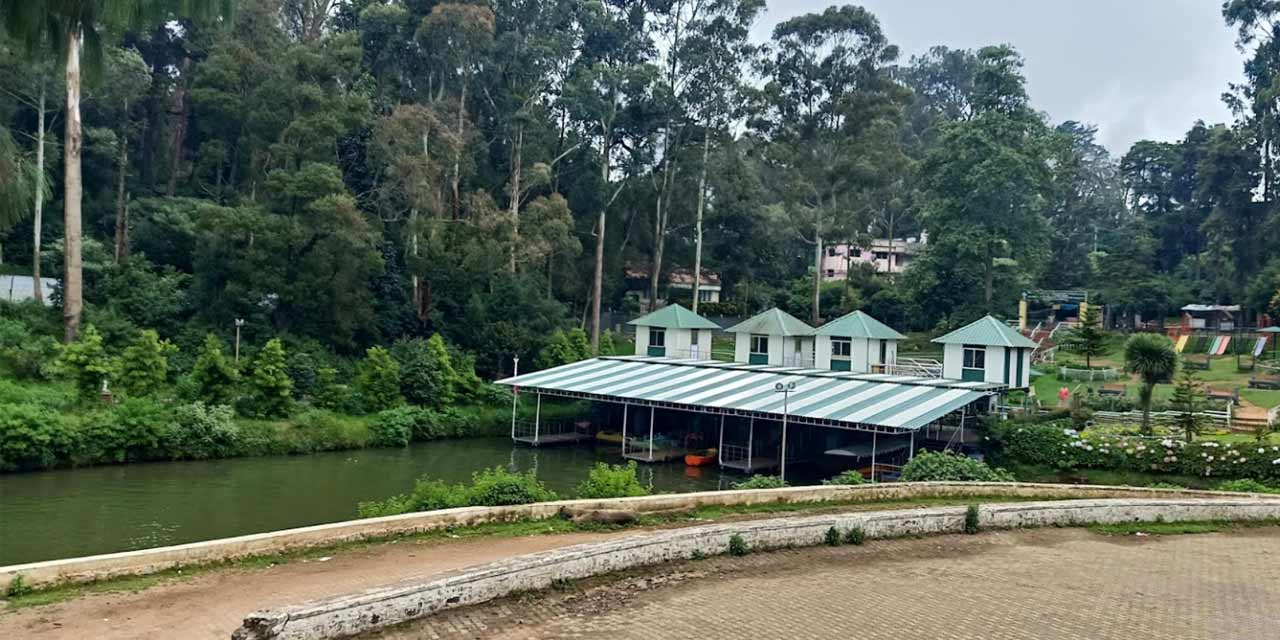 Ooty Honeymoon Boat House Entry Fee
30 per person for Adults
170 2 Seater Pedal Boat*
260 4 Seater Pedal Boat*
520 8 Seater Motor Boat#
640 10 Seater Motor Boat#
950 15 Seater Motor Boat#
205 3+1 Seater Row Boat*#
245 5+1 Seater Row Boat*#
* = Security Deposit applicable
# = Rs. 45/- Driver Charges applicable
Ooty Honeymoon Boat House Phone
---
Rating:

| 3.9/5 stars
Based on total 93 reviews
Ooty Honeymoon Boat House Address: Lake Rd, West Mere, Ooty, Tamil Nadu, 643006, India
---
It's time to soothe your eyes with the everlasting beauty of Ooty at the Ooty Honeymoon Boat House. Nestled opposite the main boat house, the Ooty Honeymoon Boat House is a perfect place for tourists to hang out and spend leisure evenings in Ooty.
A must-visit destination for honeymooners and couples looking to rekindle their romance, the Ooty Honeymoon Boat House offers a pleasant atmosphere along with the calmness and serenity. It is an exotic destination to relax and rejuvenate and has everything that you need to make your Ooty tour a memorable one. Unlike the other places in Ooty, it is relatively less crowded.
Take a short stroll on the pathway with your loved ones and enjoy the beautiful scenery around. Enjoy the boat ride to bring some excitement to your trip. Go shopping at various shops around and get some souvenirs back home.
Places to Visit near Ooty Honeymoon Boat House
1. Ooty Lake – An artificially constructed lake on the hills of Nilgiri district, the Ooty Lake is a refreshing place for visitors to play with azure waters. Enjoy a pleasant morning with a sunrise view, hire a paddle boat, give a shot at horse riding or take your kids to a mini train ride. It is only 800 m away from Ooty Honeymoon Boat House.
2. Thread Garden – Get amazed with a wide variety of flowers and plants that are beautifully crafted with thread at the Thread Garden. It is undoubtedly a masterpiece for all those who are exceptionally good with creativity and have innovative minds. The place is only 800 m away from Ooty Honeymoon Boat House.
3. Thunder World – Have a fun-filled time with your family at Thunder World. Also referred to as Dinosaur Park, the Thunder World is a complete package for tourists looking to make the most of their Ooty tour. It is only 2.2 km away from Ooty Honeymoon Boat House.
4. Rose Garden – Entice yourself with different colours and sizes of flowers, which belong to different families. At Rose Garden, you can witness the captivating scenery while strolling around the place. The beauty of the garden is just beyond belief. It is only 5 km away from Ooty Honeymoon Boat House.
Entry Fee and Timings of Ooty Honeymoon Boat House
The entry fee for the Ooty Honeymoon Boat House is INR 30 per adult. Tourists from all around the world can visit this place from 9 AM in the morning to 6 PM in the evening at any time.
Travellers Tips for Ooty Honeymoon Boat House
Wear comfortable clothes while going for recreational activities such as boating.
Do not go on the weekends as the place is extremely overcrowded during these two days.
Best Time to Visit Ooty Honeymoon Boat House
If you fancy witnessing the boat house on your trip to Ooty Honeymoon Boat House, the ideal time would be the month of May when the May Summer Festival is organized every year. In general, you can pave your way towards your favourite destination from January to June. October and November are also considered best for visiting the Honeymoon Boat House in Ooty.
Ooty Honeymoon Boat House Image Galley
How to Reach Ooty Honeymoon Boat House?
Getting to Honeymoon Boat House in Ooty is quite easy. Since it is only 2 km away from the heart of the city, it can be easily accessed via a local mode of transportation.
By Train: Ooty Railway Station is the closest railway station in Ooty. It links the Nilgiri Mountain Railway and offers train service to Mettupalayam and Coonoor. There are no direct trains from Jaipur, Coimbatore, Mysore, Lucknow, Kochi, Kanyakumari, Puri and Ahmedabad, but you can always book a connecting train from Mettupalayam Railway Station to get to the Queen of Hills.
By Road: Another way to reach Ooty is via road. The government of Tamil Nadu operates various buses on a regular basis from and to Ooty. Luxury coaches are also available for the convenience of tourists. It is up to you how you want to travel.
By Air: To reach Ooty in the least possible time, you can board a direct flight to Coimbatore International Airport. It is well-connected to the major cities of India such as Mumbai, Chennai, New Delhi, Hyderabad, Bangalore, Ahmedabad and Kozhikode. International tourists can also fly to Ooty by boarding an international flight from Singapore or Jeddah Air terminal. After arriving at the airport, opt for a taxi or bus to reach your destination.
---
Book an exclusive Ooty Tour package with us to have a perfect time of your life. We at Ooty tourism, a division of Holidays DNA, take care of our holidaymakers' needs and offer travel deals at pocket-friendly prices. Our team of experts has also curated a list of top car rental companies in Ooty for a hassle-free experience. Please fill the Contact Us form to know more about our offerings.
Location Map for Ooty Honeymoon Boat House