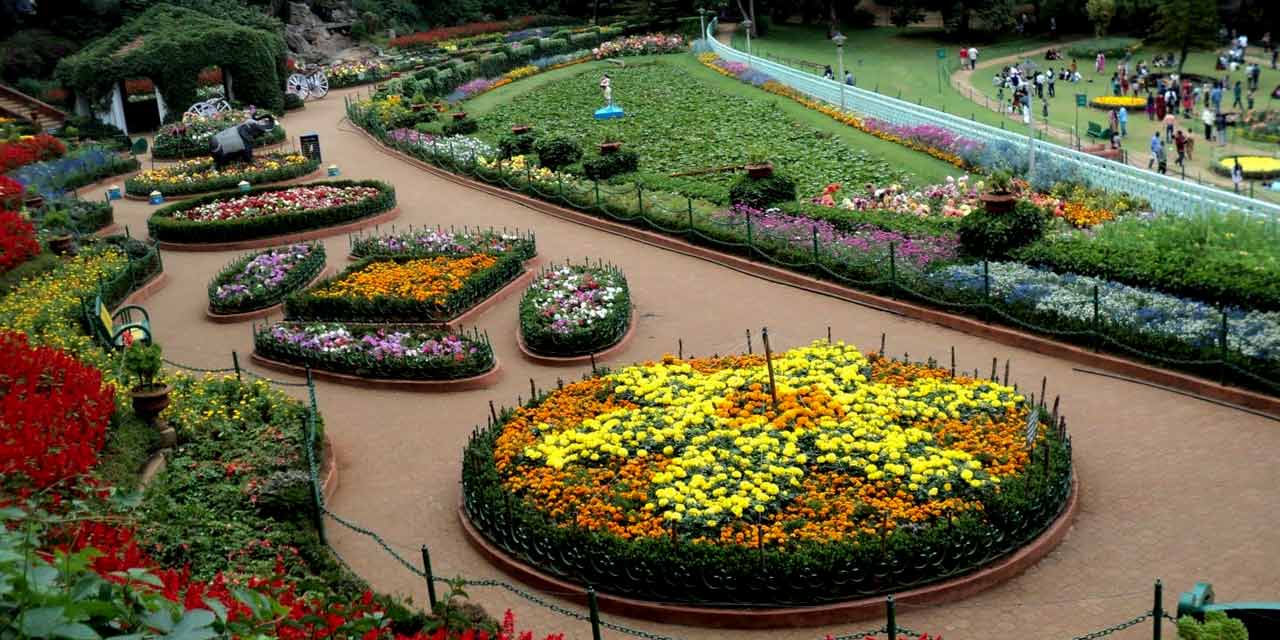 Sim's Park Coonoor Entry Fee
30 per person for Adults
15 per person for Children (3-12 years)
50 for Still Camera
100 for Video Camera
Sim's Park Coonoor Phone
---
Rating:

| 4.7/5 stars
Based on total 109 reviews
Sim's Park Coonoor Address: Attadi, Coonoor, Tamil Nadu, 643101, India
---
Be sure to take some time off for Sim's Park in Coonoor when you're exploring the popular tourist attractions in Ooty. Home to 1000 plus species of colourful and vibrant flowers, the Sim's Park is a well-maintained botanical garden where you can enjoy nature at its best along with exploring the breathtaking landscapes.
An excellent and delightful visit for fun seekers, sightseeing lovers and photographers, the Sim's Park lets you spend some quality time amid lush greenery. Situated on the northern side of Coonoor, the park offers a perfect getaway for all those who are looking to escape away from the metro life. It is a great base to discover the hidden secrets of rare exotic plants and is a go-to place for pleasant afternoons on your Ooty tour.
Spread over an area of 12 hectares of land, the park is mainly divided into 4 sections as a small Lily pond, a rose garden, a boating area and a flowering plants area. It boasts of an array of trees introduced from different parts of the world and has walkways lined up with beautiful flowers. Other highlights of the park include Handsome Ornamental tree, Queensland Karry Pine and Rudraksha Tree.
Another point of interest is its fruits and vegetable show, which is successfully organized by the Department of Horticulture from the past 53 years in continuation. It is a 2-day affair that showcases various exotic species of plants, thus attracting nearly 25,000 visitors every year from different corners of the world. There is also a glass house and a rose garden that gives you hundreds of reasons to smile the moment you think of visiting this place.
History of Sim's Park, Coonoor
Tracing its history back to over hundreds of years ago, the Sim's Park in Coonoor was named after the British Officer Mr. J.D. Sims, who was the Secretary to Government. In the beginning, it started as a resort for visitors to enjoy a comfortable and pleasant stay. However, in 1874, the park got converted into a garden under the combined guidance of Major Murray and J.D. Sims. Since then, it has become a common base for tourists to take a glance at the unusual species of plants and naturally occurring trees.
Image Gallery of Sim's Park Coonoor
Things to do in Sim's Park, Coonoor
1. Enjoy long and peaceful walks in and around the rose garden and study a wide variety of flowers, belonging to different families.
2. Get captured in as many photographs as you want. Here you can also ask the professional photographers to click some splendid pictures, with an awe-inspiring background at your backdrop.
3. Try your hand at boating to experience some adventure in your life. The small boating area has paddle boats for both couples and families.
4. Bring a picnic basket to have a perfect time of your life with your children. It is indeed an amazing spot to experience some delightful time with your loved ones.
Entry Fee and Timings of Sim's Park, Coonoor
The entry fee to visit Sim's Park in Coonoor is INR 15 per person for children up to 12 years of age and INR 30 per person for adults. It is open for its visitors from 9 AM to 6 PM on all days of the week.
Travellers Tips for Sim's Park, Coonoor
1. Do not carry any eatables along with you whenever you are visiting the garden. There is a small tea shop where you can stop to fulfil your appetite with some snacks.
2. Do not pluck any flowers just for your fun and silly pleasures. It takes a lot of hard work, time and effort in maintaining the beauty of a garden.
3. Do not throw anything here and there in the park. Make sure to keep it clean and green and leave it the way it was before you entered the place.
Best Time to Visit Sim's Park, Coonoor
Since the park is perched 1,780 meters above the mean sea level, it is recommended to visit this place from October to February. During this time, the weather remains quite pleasant. However, if you wish to enjoy the annual affair of fruits and vegetable show, you can visit it in the month of May as well.
How to Reach Sim's Park, Coonoor?
By Air: Board a direct flight to Coimbatore International Airport from New Delhi, Bangalore, Chennai, Hyderabad, Mumbai and Sharjah to reach Coonoor in the least possible time. It is approximately 100 km away from Coonoor. From there, you can opt for a local mode of transport to get to your destination.
By Bus: There are various government and private-owned buses that operate daily, connecting Coonoor to Ooty and Ooty to other major states of India. Several luxury coaches are also available for the convenience of tourists. The booking of air-conditioned buses can be done online for a hassle-free experience.
By Train: Since Coonoor Railway Station is only 4km away, it can be easily accessed with a short stroll to Sim's Park. To reach Coonoor Railway Station, you can enjoy the journey through Ooty Toy Train, which links Mettupalayam to Ooty and other neighbouring towns of the hill station.
---
Make the most of your holiday by booking an all-inclusive or a customized Ooty tour package with us. We at, Ooty Tourism, a division of Holidays DNA, carefully design the travel packages suiting to your budget and preferences. Other than that, our experts have also prepared a list of top car rental companies in Ooty for easy commutation. To know more about our services, please fill the Contact Us form.
Location Map for Sim's Park Coonoor