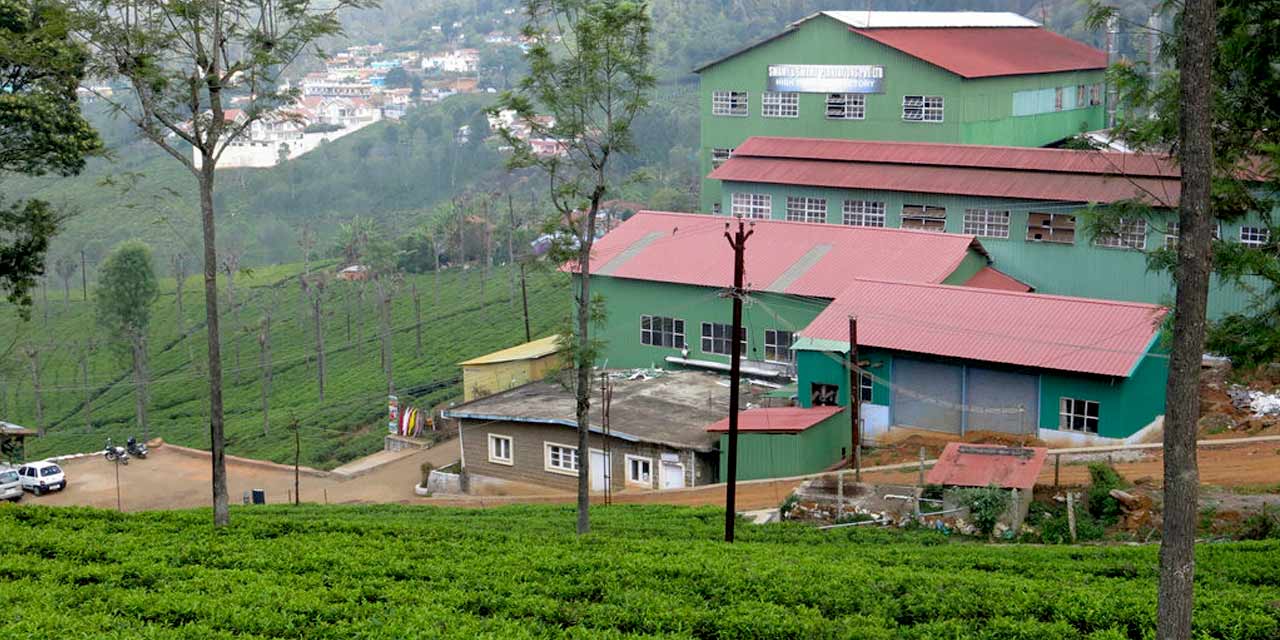 Highfield Tea Factory Coonoor Entry Fee
10 per person for Adults
Highfield Tea Factory Coonoor Phone
---
Rating:

| 4.2/5 stars
Based on total 78 reviews
Highfield Tea Factory Coonoor Address: Coonoor-Kattabettu-Kotagiri Road, Attadi, Coonoor, Tamil Nadu, 643231, India
---
Treat yourself to an idyllic weekend getaway at the Highfield Tea Factory. A place to discover the different flavours of tea, the tea lovers at the Highfield Tea Factory can see the entire process of tea making along with witnessing how the spices for Masala tea are mixed.
Situated 2 km northeast of upper Coonoor, the Highfield Tea Factory is a 50-year-old estate that allows you to indulge in the aroma of fresh tea leaves being brewed. It invites tourists from all around the world to enjoy a unique and different experience that is rare to get anywhere else and is indeed one of the best places to visit on your Ooty tour.
The surrounding landscapes make you feel connected to nature and the lush greenery allows you to please your senses with enchanting views. Here you can also stroll around the in-house tea shop to bring your flavoured tea back home.
Other than that, the factory is also known for selling sandal packs, tree oil and other balms. And if you are a chocoholic, the place is a heaven for you as it upsurges your devotion for the authentic chocolates, which are prepared here from scratch.
Places to Visit near Highfield Tea Factory
1. Sim's Park – Visit Sim's Park to interact with 1000 plus species of exotic flowers and plants. It is a place where you can spend pleasant afternoons overlooking the breathtaking mountains. You can also enjoy the annual affair of fruit and vegetable show if you're visiting the park in May. The place is only 0.8 away from Highfield Tea Factory.
2. Tiger Hill Cemetery – Dating its history back to colonial times, the Tiger Hill Cemetery is an old historic place that has the graves of illustrious personalities. Situated off the Tiger Hill, the place lets you enjoy the drop-dead gorgeous views of the valley. It is only 2.4 away from Highfield Tea Factory.
3. Lamb's Rock – An ideal destination to relax and rejuvenate your mind, the Lamb's Rock is a fantastic viewpoint that offers a nice view of the tea estates and the surrounding hills. It is a heaven for photographers and is no less than a paradise for romantic couples. The place is only 3.9 away from Highfield Tea Factory.
4. Rallia Dam – Another most serene and secluded spot in the city of Coonoor is the Rallia Dam, which features a tranquil setting for holidaymakers who are looking to spend some lonely time themselves. Here you can soak up the lush greenery while admiring nature and is a great place for a 1 km trek. It is only 1.8 away from Highfield Tea Factory.
Image Gallery of Highfield Tea Factory Coonoor
Entry Fee and Timings of Highfield Tea Factory, Coonoor
The entry fee for Highfield Tea Factory is INR 10 per adult. Tourists can visit at any time from 9 AM to 6 PM in the evening, and the recommended exploration time is of 2 hours.
Traveller Tips for Highfield Tea Factory, Coonoor
Do not forget to bring your camera along as the location offers a perfect view to click tonnes of pictures with wonderful scenery at the backdrop.
Avoid visiting the place during the monsoon season. Else, you'll not be able to make the most of the tea plantations.
Best Time to visit Highfield Tea Factory, Coonoor
The months from October to March are generally considered as the best time to visit Highfield Tea Factory in Coonoor. During this time, the hill station spreads its charm all over the area in the most beautiful way.
How to Reach Highfield Tea Factory, Coonoor?
By Air: Coimbatore International Airport is well-served by various direct flights from domestic air terminals such as New Delhi, Mumbai, Hyderabad and Bangalore and connecting flights from international airports including Singapore and Jeddah. After arriving at the Coimbatore airport, which is 100 km away from Coonoor, you can hire a cab to get to your destination.
By Train: The nearest railway station to Coonoor is Coonoor Railway Station. To reach Coonoor, you can catch the Nilgiri Toy Train which links Coonoor to Mettupalayam and Mettupalayam to the neighbouring towns of the city. From there, look for a local mode of transport or hire a taxi from the list of leading car rental companies in Ooty.
By Road: Choose to enjoy the road journey via a local bus if you're travelling from Ooty to Coonoor. There are several regular, private and public-owned buses that connect the Queen of hill station to the other cities of India. Luxury coaches with air-conditioning facilities are also available for your convenience. You just need to figure out a way that suits you the most!
---
Plan your trip with Ooty tourism, a division of Holidays DNA to have a perfect time of your life. We design all-inclusive and customized Ooty tour packages keeping the varied requirements of customers in mind. You can avail the best deals at pocket-friendly prices. Please fill the Contact Us form to know more about our offerings!
Location Map for Highfield Tea Factory Coonoor