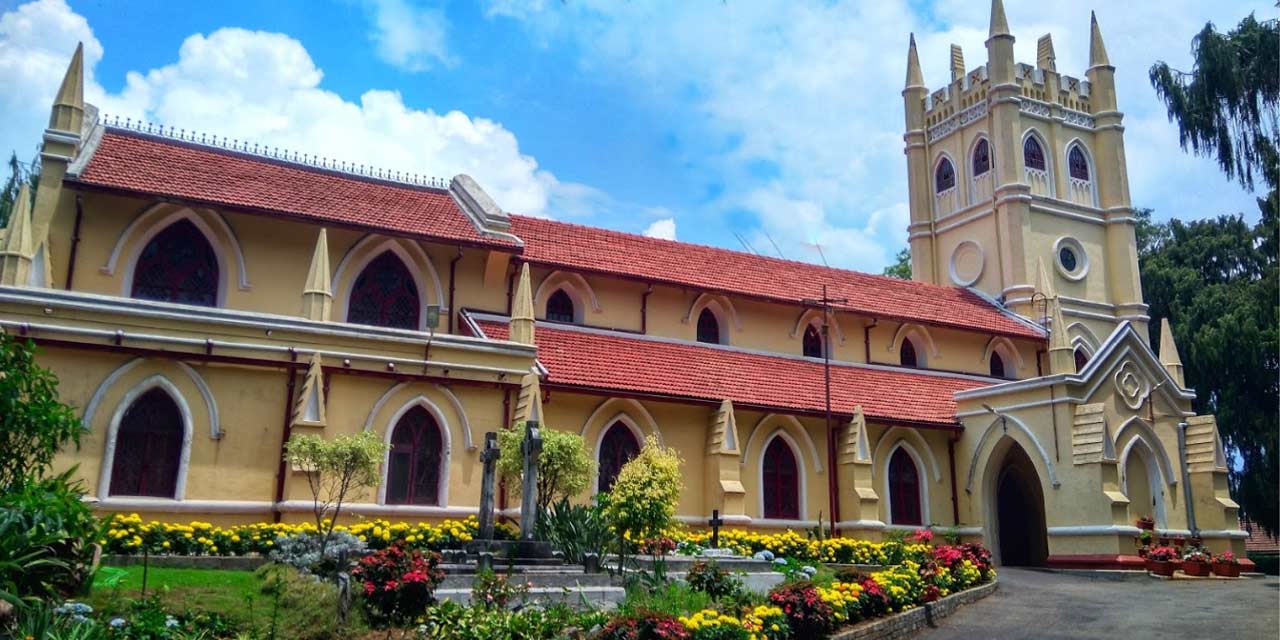 All Saints Church Coonoor Entry Fee
0 (No Entry Fee)
All Saints Church Coonoor Phone
---
Rating:

| 4.1/5 stars
Based on total 64 reviews
All Saints Church Coonoor Address: Church Road, Off Near Indcoserve Office, Coonoor-Kattabettu-Kotagiri Rd, Alwarpet, Coonoor, Tamil Nadu, 643101, India
---
All those who want to spend some religious time at a place surrounded with peace and tranquillity, All Saints Church is the right destination to visit. Nestled on the Kotagiri Road, All Saints Church is one of the ancient churches of the hill station and has become a must-visit sightseeing place in Ooty. It is a great spot for tourists to interact with the local residents of the town.
Widely famous for adorning a beautiful architecture, the church offers a serene setting to relax your restless mind and is a perfect base for experience seekers and history buffs. Here you can enjoy a short stroll in the lush green garden or visit the nearby Taj Garden Retreat Hotel for a wide variety of drinks. Unlike the other places, the All Saints Church is far away from the city and is rarely crowded.
History and Architecture of All Saints Church, Coonoor
Dating its history back to 163 years ago, the All Saints Church is a cream coloured English style Anglican church that is well-maintained both inside and out. Constructed in the year 1851, the church was once a part of the church of England.
It is a reformed protestant church with a beautiful interior and has stained glass windows that never fail to attract tourists of all ages. Other than that, the church owns the antique wooden work and an ancient pipe organ that enhances its overall appearance.
The rustic charm encompassed with tall pine trees makes it look flawless and the stunning landscapes please your senses with a feeling that you cannot get anywhere else. There is also a graveyard that has the poignant memories of all those people who worked hard in the military, the church and the planter community of India and died there.
All Saints Church Coonoor Image Gallery
Entry Fee and Timings of All Saints Church, Coonoor
There is no entry fee to visit All Saints Church in Coonoor. It is open for its visitors from 9:30 AM to 5:00 PM on all days of the week.
Travellers Tips for All Saints Church, Coonoor
Try to keep calm whenever you are inside the church. Also, encourage others to maintain the silence.
Make sure to attend the Sunday mass at 9:30 AM if you're planning to visit All Saints Church on the weekends.
How to Reach All Saints Church, Coonoor?
Since All Saints Church is only 2 km away from the heart of the city, it can be reached through various roads that connect Coonoor to Ooty and Ooty to other states of India.
By Air: The nearest airport, Coimbatore International Airport, which is only 100 km away, serves several domestic and international flights from Mumbai, New Delhi, Bangalore, Chennai and Singapore Airport. After arriving at the Coimbatore terminal, you can either look for a taxi to reach your destination or get to Mettupalayam to enjoy the Nilgiri toy train ride for Coonoor.
By Road: Another way to travel to Coonoor is by road. There are regular, private and government-owned buses that operate daily from the neighbouring towns. For your convenience, luxury coaches with air-conditioning facilities are also available. Although the booking of luxury buses is done in much advance, the journey is the most comfortable one.
By Train: Approximately 45 km away is the Mettupalayam Railway Station and about 75 km away is the Coimbatore Railway Station that links the rest of India via a train service. From there, local city buses are considered as a good option to commute within the hill station at a price of INR 100-150 per day. You can also hire a private taxi from the list of top car rental companies in Ooty for a hassle-free experience.
---
We at Ooty Tourism, a division of Holidays DNA, offer the best travel deals catering to our customers' requirements. Our travel experts also design customized Ooty tour packages according to the duration of your holiday. Please fill the Contact Us form to talk to our representative now!
Location Map for All Saints Church Coonoor