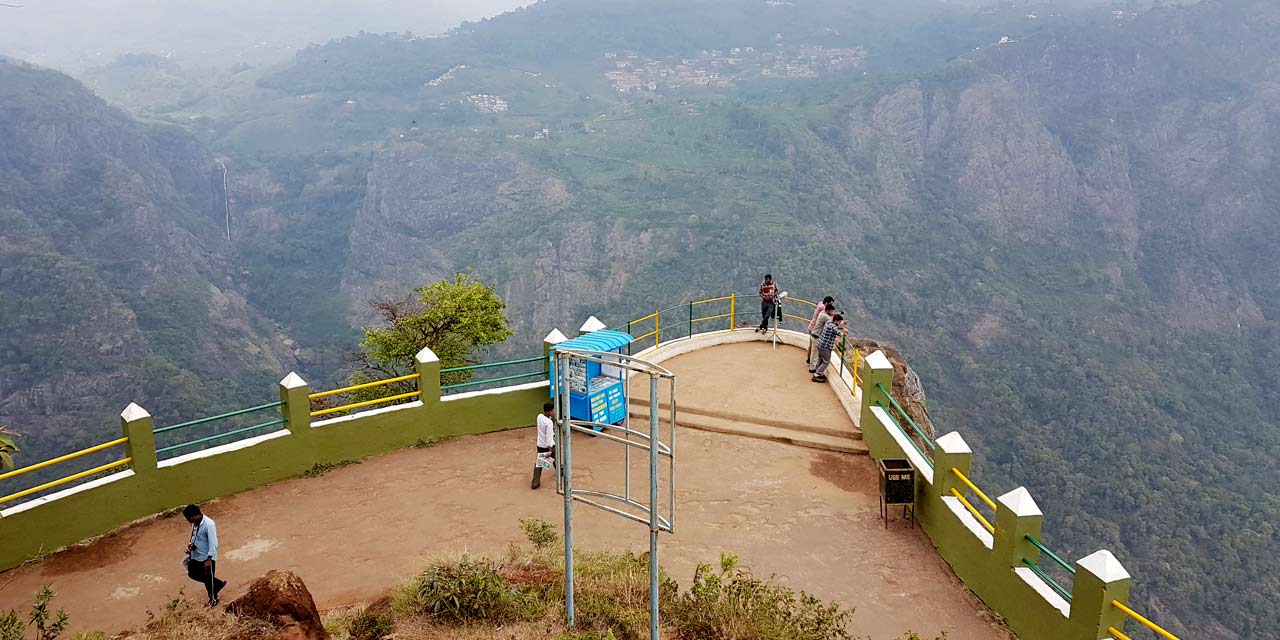 Dolphin's Nose Coonoor Entry Fee
15 per person
20 for Still Camera
50 for Video Camera
Dolphin's Nose Coonoor Phone
---
Rating:

| 4.3/5 stars
Based on total 94 reviews
Dolphin's Nose Coonoor Address: Dolphin's Nose, Coonoor, Tamil Nadu, 643103, India
---
If you wish to witness the picturesque view of the mountains and the lush green tea estates on your way to Ooty tour, Dolphin's Nose is your destination. It is a romantic gem in the Queen of hill stations. This famous attraction does justice to its name and offers its visitors a breathtaking view of the graceful Catherine Falls.
Located at a distance of just 12 km from Coonoor, the Dolphin's Nose is a wonderful spot where one can enjoy the natural beauty at its best. The 1,550 m high altitude above sea level makes it a perfect getaway for all those who wish to overlook the 180-degree view of the surrounding scenery. If you look at the other side, you will get to see an unobstructed view of the Kotagiri streams, which is a dreamy experience for sightseeing lovers. It is undoubtedly a must-visit sightseeing place in Ooty.
The excitement grows multi-fold if you enjoy a scenic drive through its winding narrow roads that allow you to discover the blue landscapes of Tamil Nadu as you ascend. The lush greenery makes couples and honeymooners forget everything about the daily chaos, and the excellent atmosphere and calmness of the quaint villages let families have a fun-filled time. All-in-all, it won't be wrong to say that the place leaves you awe-struck with its magic every time you get to see this huge rock.
Things to do at Dolphin's Nose, Coonoor
Add some adventure to your life by trying your hand at horse riding and boating.
Bring a picnic basket to spend some quality time with your children.
Get photographed in some exclusive photos with a die-to-fall background of Nilgiri hills.
Enjoy a sip of Coonoor Tea to relish the actual taste of tea. It is something you wouldn't want to miss on a Dolphin's Nose Point.
Image Gallery of Dolphin's Nose Coonoor
Places to Visit near Dolphin's Nose, Coonoor
Whether you have come alone or with family, Coonoor will please you with a unique and different experience every time. However, with a number of places to explore in and around the hill station, it sometimes gets difficult to cover all in one go. So, here we have summed up the top 5 sightseeing places to explore near the Dolphin's Nose:
1. Lady Canning's Seat – Widely known for its hills and blue landscapes, the Lady's Canning Seat is a delightful experience for both newlyweds and couples who are looking to rekindle their romance. Over the years, the place has retained its charm and gives a great treat to the eyes. It is just 1.7 km away from Dolphin's Nose.
2. Lamb's Rock – Rejuvenate your senses at Lamb's Rock. Vibrant sunshine, pleasant atmosphere, cool mountain breeze and a peaceful setting is what you'll get to see the moment you step towards Lamb's Rock. You can also trek to overlook the view from the top. It is just 2.9 km away from Dolphin's Nose.
3. Rallia Dam – Be sure to take some time off for Rallia Dam whenever you are holidaying in Ooty. It is one of those secluded spots where you can relax and unwind away from the city life. Walk around to witness the sunrise and sunset and see the pristine beauty of the place. The tourist attraction is just 4.5 km away from Dolphin's Nose.
4. Sim's Park – Get amazed with an exotic species of various flowers and plants at the Sim's Park. It is a well-maintained botanical garden laid at the slope of the hill. Here you can bask under the sun, admire nature or enjoy boating in the small boating area. The place is just 6.6 km away from Dolphin's Nose.
5. Tiger Hill Cemetery – Dating its history back to the 1900s, the Tiger Hill Cemetery is an old graveyard that was earlier used by British officers. Situated amidst tea plantations, the place is hauntingly beautiful and has drop-dead gorgeous views to offer. It is just 7 km away from Dolphin's Nose.
Entry Fee and Timings of Dolphin's Nose, Coonoor
The entry fee to admire the panoramic views at Dolphin's Nose Viewpoint is INR 15 per person. Tourists can visit at any time between 9 AM and 6 PM and the recommended exploration time is approximately 1 hour. If you wish to take your camera, you need to pay another INR 20 for a Still camera and INR 50 for Video Camera.
Travellers Tips for Dolphin's Nose, Coonoor
1. Do not visit this place in the early morning or in the late evening as you might not get to see the proper view due to fog and mist.
2. Do not climb the fence to capture some amazing pictures of yours. It can be risky sometimes. So, be aware, especially if you are with your family.
3. Do not feed anything to the monkeys. The monkeys might try to snatch your belongings and other food stuff away from you.
4. Do not throw waste material or plastic bags at the viewpoint. You must keep the place clean and green.
Best Time to Visit Dolphin's Nose, Coonoor
Although one can visit the Dolphin's Nose in Coonoor throughout the year, the ideal time would be during the rainy season. At this time, the viewpoint is surrounded with lush greenery all around and has a better view to witness. You can also plan a trip between the months of March to May to enjoy the occasional rainfalls at this viewpoint.
Try avoiding it from November to February. The temperature decreases drastically during the winter months, making it too cold to visit the place.
How to Reach Dolphin's Nose, Coonoor?
By Air: The closest airport to Coonoor is Coimbatore International Airport, which has direct flights from the metro cities of India such as New Delhi, Chennai, Hyderabad, Bangalore and Mumbai. International tourists can also board a flight from Singapore air terminal to reach Coimbatore International Airport in the least possible time. From there, you can book a cab to get to your destination.
By Road: Coonoor maintains good road connectivity to the neighbouring regions and can be easily accessed via a local mode of transport. There are several private and government-owned buses that operate at regular intervals from Bangalore to Ooty and from Ooty to Coonoor. Local buses are also available for one to commute within the hill station.
By Train: If you prefer travelling by train, you can enjoy the railway journey to Coonoor Railway Station, which is nearly 10 km away from Dolphin's Nose. For the convenience of tourists, a toy train ride in Ooty is also available. After arriving in Coonoor, opt for a taxi or rent a private vehicle from the top car rental companies in Ooty for a hassle-free experience.
---
Make the most of your Ooty tour by booking an all-inclusive Ooty tour package with us. We at Ooty tourism, a division of Holidays DNA, carefully design our travel deals keeping everyone's holiday and budget requirements in mind. To know more, please fill the Contact Us form to talk to our team of experts.
Location Map for Dolphin's Nose Coonoor